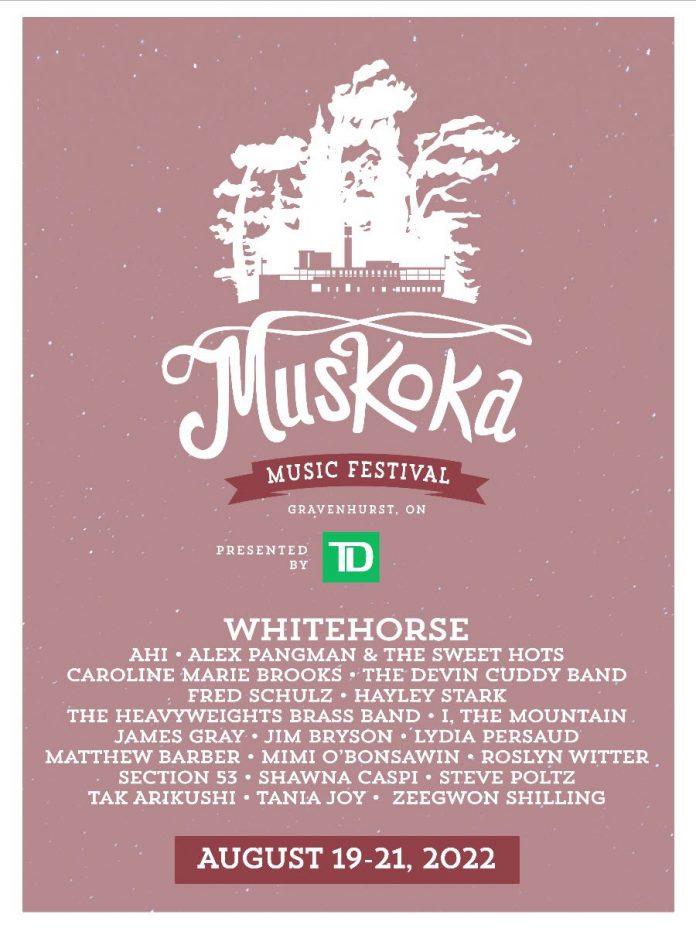 Gravenhurst's Muskoka Music Festival is excited to share the festival lineup for the 2022 edition happening August 19 to 21! JUNO-award winning group Whitehorse to headline the Opera House with special guest Polaris Music Prize long-listed artist AHI on Saturday, August 20.
"I am delighted to be sharing this lineup of talented Canadian artists – both old favourites and new – and I cannot wait to celebrate the return of live music with you in beautiful Gravenhurst, Muskoka," said Miranda Mulholland, founder and artistic director of the Muskoka Music Festival.
In November of 2021, the Muskoka Music Festival was selected by the Gravenhurst Chamber of Commerce to be the new owners and operators of the legacy event Dockside Festival of the Arts. Mulholland saw this as the perfect opportunity to integrate music in a significant way into the already popular artisan village and celebrate the past and future of Gravenhurst down by the wharf as well as downtown. Operating Dockside, which has been running for over 25 years, and Muskoka Music Festival as sister festivals will make the third week of August the crown jewel of summer in Muskoka.
This year, along with experiencing the amazing vendors at the Dockside Festival of the Arts, the Muskoka Music Festival Tent will feature workshops and performances from Caroline Marie Brooks, Hayley Stark, I, The Mountain, James Gray, Jim Bryson, Lydia Persaud, Matthew Barber, Mimi O'Bonsawin, Roslyn Witter, Section 53, Shawna Caspi, Steve Poltz, Tak Arikushi, Tania Joy and Zeegwon Shilling.
The weekend will wrap up on Sunday evening with Muskoka Music Festival closing out the 2022 Music on the Barge series with performances from Fred Schulz, The Heavyweights Brass Band, Alex Pangman & The Sweet Hots, and The Devin Cuddy Band. A tradition for over 50 years, beautiful Gull Lake Rotary Park has played host to Gravenhurst's Music on the Barge program offering a variety of live concerts each Sunday evening from mid-June to the end of August.
"Muskoka Music Fest was a lot of fun!" said 2019 performer Shakura S'Aida. "The best part for me was the huge community connection – the number of grandparents enjoying the music alongside their grand and great grandchildren was beautiful and is rare achievement for any concert, let alone a music festival. Many audience members spoke about their roots in the Muskoka region and how important the area was to them; they loved being able to have access to music in 'their backyard' and welcomed my band and I to stop by anytime."
Limited Weekend and VIP Packages are on sale now. Full details can be found at muskokamusicfestival.com.