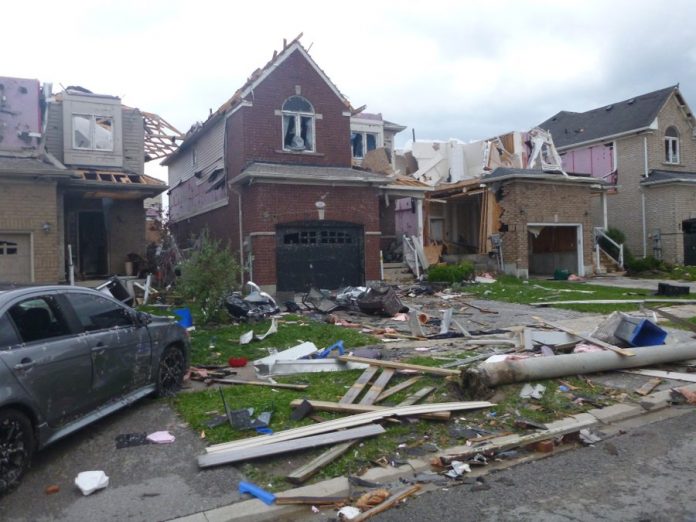 Thunderstorms developed across much of Southern Ontario Thursday. One thunderstorm became severe Thursday afternoon as it moved across Barrie, producing a tornado that blasted the southern part of the city.
Just after 2:30 p.m., Thursday, a tornado tracked from the miniature golf course on Huronia Road and Mapleview Drive (in south Barrie) and continued eastward towards Prince William Way where it caused significant damage on the north side of Mapleview drive.
Trees were uprooted or toppled, and at least 10 roofs were removed. The second floor was destroyed or removed from two houses. A couple vehicles were overturned. Roof shingles were damaged or removed from a number of other homes along the damage track from the tornado.
There were 11 injuries as a result of this tornadic thunderstorm.  A damage survey team from ECCC and Western University's Northern Tornados Project determined a preliminary rating of EF-2 with maximum wind speeds 210 km/h.
The damage path was about 5 km long and up to 100 metres wide.  The damage track may have continued towards Friday Harbour and and over Lake Simcoe. Please note that this summary may contain preliminary or unofficial information and does not constitute a complete or final report.
Volunteers and supplies are needed.