By  Kayla Gladysz – Storeys
The weather in Ontario is heating up, but still, real estate cottage country is hotter. In fact, the only thing that's more feverish than Muskoka region's property sales are its property values.
According to newly-released data from the Canadian Real Estate Association (CREA), residential non-waterfront sales activity recorded through the MLS System for the Lakelands region totalled 416 units last month. This marks an increase of 203.6% from the same period in 2020, and sets a new sales record for April.
Waterfront sales activity, meanwhile, increased 267.6% year-over-year. Also setting a new record for the month, waterfront property sales totalled 250 units.
Activity surrounding both property types surpassed what's typically seen in the region by long-shots. Non-waterfront sales soared 57.5% and 63.8% above the five- and 10-year averages respectively, while waterfront sales surpassed the same markers by 63.4% and 69% respectively.
Residential non-waterfront sales were 57.5% above the five-year average and 63.8% above the 10-year average for the month of April.
"Non-waterfront and waterfront sales combined to push overall activity above 600 sales for the first April in history, as both property types set new records for the month of April," said Chuck Murney, President of the Lakelands Association of Realtors.
"A surge in new listings has prevented overall supply levels from falling any further for the time being, although whether this increase in new supply can be sustained remains to be seen. With inventories already at record low levels, competition among buyers has been driving even stronger price growth."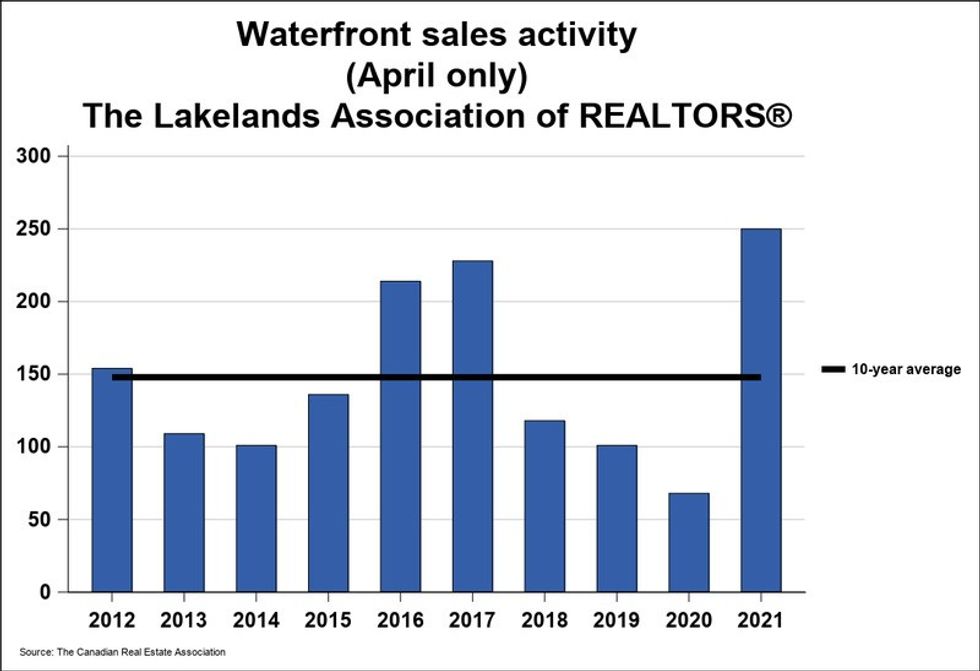 Where year-to-date data is concerned, residential non-waterfront sales reached 1,208 units through the first four months of 2021 — a record-breaking total that marks a 74.8% increase from the same period last year. Waterfront sales jumped 187.9% year-over-year, closing April with a record 645 units having changed hands.
The MLS Home Price Index (HPI) — which tracks price trends more accurately than what's possible using average or median price measures — reported the region's single-family benchmark price to be $571,600 in April, marking a 50.6% increase year-over-year.
Residential non-waterfront property sales saw their median price weigh in at $580,000 last month, jumping 45.7% year-over-year. From a year-to-date perspective, the median price was $580,500 — up 45.2% over the first four months of last year.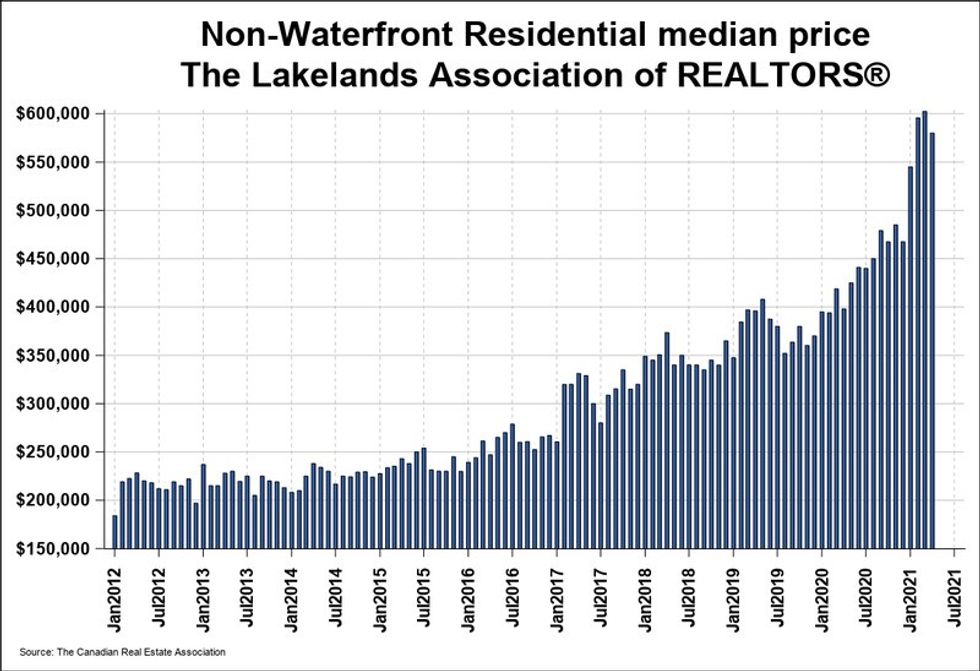 At the same time, the median price recorded for waterfront property sales last month was 70.5% over that of April 2020, closing the month with a record $890,000. On a year-to-date basis, the waterfront median price was 865,000, which soars 68.6% over last year's.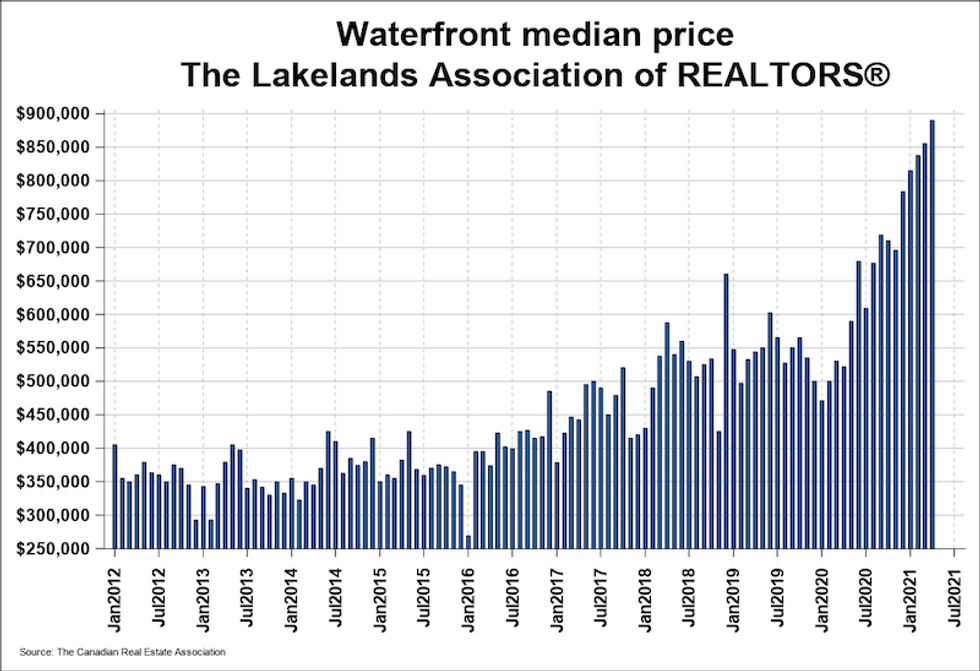 While all of the data from January through to April — and in April alone — proves impressive, it's the month's total dollar values that (forgive us) will blow you out of the water. Last month, residential non-waterfront sales clocked in at a total dollar value of $265.1 million, surpassing April 2020's total by 354.2%. Not only does this count set a new record for April, it also boasts the largest dollar value of homes sold for any month in history.
Waterfront sales, meanwhile, appear to have gone hard and gone home. Their total dollar value recorded last month increased 462.9% year-over-year, closing April at 279.3 million with a new record set for the month.
"These staggering year over year sales increases of waterfront sales in key cottage markets like Muskoka, Haliburton & Kawarthas underscore what we have suspected all along," affirms Ross Halloran of Sotheby's International Realty.
"In the face of a pandemic, people will go to extraordinary lengths and expense to establish new accommodation venues to safely enjoy a lifestyle that focuses on  spending more time with friends and family while communing and working in or near nature."
Though the road to recovery from the 2020-21 debacle appears to be laid out ahead of us, it's in the zeitgeist that this summer will still be at least semi-remote.
And the price of privacy — especially privacy paired with long lake views — keeps on rising.
Written By  Kayla Gladysz
Outside of writing about real estate news and bathtubs she wishes she could call her own, Kayla loves taking leisurely strolls, baking (and eating) sourdough bread, and reading Mary Oliver by candlelight. She also believes the Twilight: New Moon soundtrack is "genuinely great."
Click Here to visit the website.