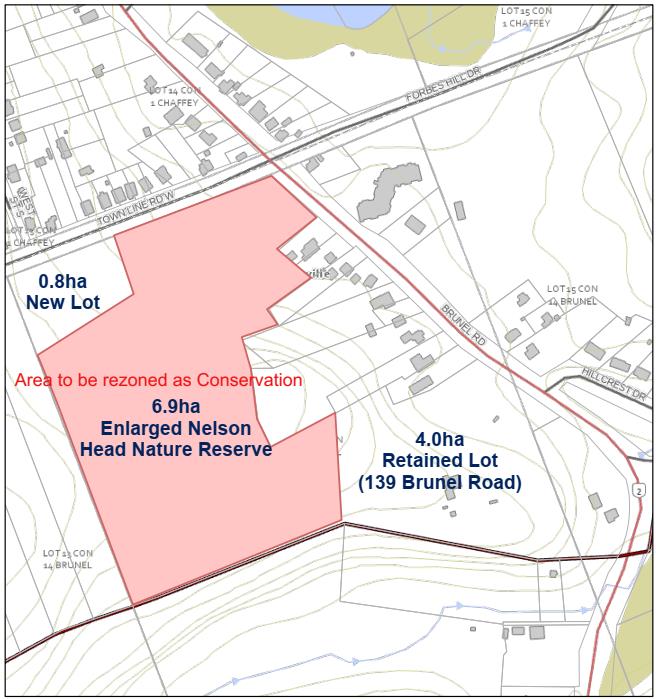 An application for a zoning by-law amendment heading to Huntsville council on Wednesday is already mired in controversy as Muskoka Conservancy looks to swap two acres of their protected land for 10 acres of a neighbouring property.
The two acres of land in question are part of the Nelson Head Nature Reserve, a property that is just over 9 acres, which was donated by Aldine Head in 2010. Head made the donation in honour of her late husband Bill and her father-in-law Nelson with hopes of the property remaining green in perpetuity. Neighbouring property owners Jeremiah Tilstra and Margaret Stead proposed the exchange in 2019, seeking to create a new residential lot with frontage on Town Line Road West. Once the planning committee makes a decision on the application, it will move on to the committee of adjustment for further consideration.
Muskoka Conservancy Executive Director Scott Young said in a justification letter to council that the land exchange makes sense for nature conservation, in part because properties have reduced natural value near their edges, especially when the property abuts urban development.
"Exchanging a small parcel adjacent to urban development for a larger backlot parcel not only increases the protected area, but it will also reduce or soften the so-called edge effects ensuring that more of the nature reserve has a chance to be natural," Young said. "Of equal significance, a stream flowing through the nature reserve has its headwaters on the backlot we seek to acquire. The exchange will ensure this spring is protected."
Many locals have expressed outrage that the conservancy would go against the wishes of a donor, but Young said "there were no terms under which the land was donated" and emphasized the "overwhelming net benefit to nature" in the letter to council. 
Young also told Muskoka411 that the conservancy has been in conversation with Head throughout the two-year process, and while they were aware of her reluctance to support the two-acre severance, he said that she agreed based on the environmental benefits as well as the protection of her family homestead. They were surprised when she reached out last Thursday to voice her objection, but the application had already been filed long before. 
"When the neighbouring property owner approached us with this opportunity, our immediate thought was to say no because we didn't want to risk our trust with land donors," Young said. "But as we began to study the situation, we realized there was some very compelling ecological reasons to study this opportunity further. On top of that, we knew we could not do it without the support of Aldine Head."
They thought they had her support until last week, he said, so the team at the conservancy is still trying to determine the best way forward. They hope to use the public meeting to learn more and though they are considering withdrawing the application, their ultimate decision will be what they feel is right, even if it's unpopular.
Meanwhile, friends and family of Head have written letters to council and taken to social media to express their frustration. Huntsville town staff have recommended approval for the application, but interested parties won't know more until the planning committee meeting, which starts at 1 p.m. on June 16.
The Head family did not immediately respond to requests for comment. The article will be updated with any responses received.
To read the Town of Huntsville Staff Report regarding the land swap, click here. To watch the planning committee meeting, visit the Town of Huntsville website starting at 1 p.m. on June 16.