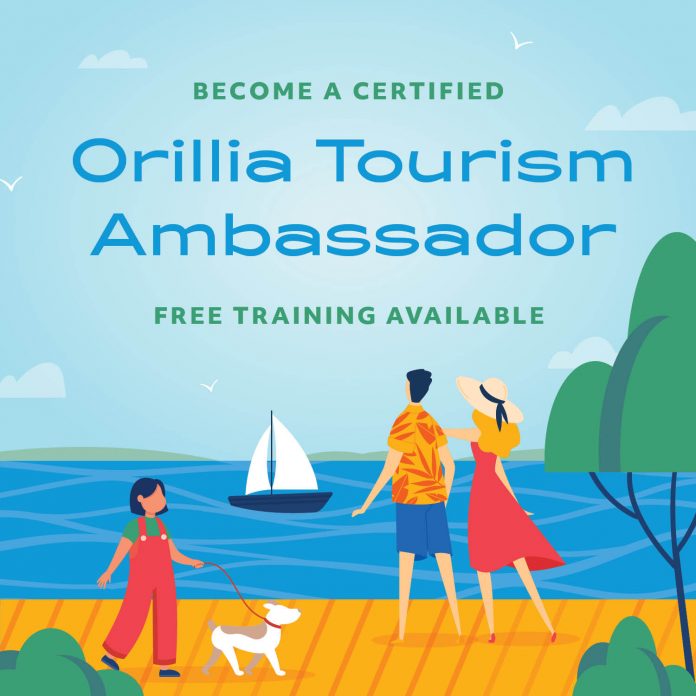 The City of Orillia has launched a free online Tourism Ambassador Certificate program to help educate all current and prospective frontline tourism and hospitality employees in the community to deliver consistent visitor information services.
"There are so many great things to see and do in Orillia, and the Tourism Ambassador Certificate program will help further create a sense of civic pride and stewardship for Orillia by expanding our pool of ambassadors providing frontline customer service," said Mayor Steve Clarke. "The tourism industry is such an important aspect to Orillia's economic recovery as we begin to welcome back visitors to our beautiful city. I encourage any business supporting the tourism industry, or any citizen interested in working in tourism, to complete the program."
The free certificate is delivered online through an e-learning module to current and prospective tourism and hospitality employees. The aim of the program is to provide awareness and education for area staff members to help visitors to Orillia become more acquainted with the rich history and heritage of the city, as well as provide information on things to do, sights to see, and experiences to enjoy.
The Tourism Ambassador Certificate program has six modules and takes approximately two hours to complete. Businesses and their staff, along with those seeking employment, are encouraged to enrol.
"The Tourism Ambassador Certificate program is a tool for all business owners to help train their frontline staff," said Michael Ladouceur, Interim Director of Business Development, Culture and Tourism. "After the impact of COVID-19 on the tourism industry, this program provides education about how to best deliver visitor information while also providing opportunities to those seeking employment to enhance their resumés, thus providing another tool to our great business leaders for their recruitment."
To encourage enrolment, the City is implementing an incentive campaign for individuals and business owners to have their staff register and take the free program. Incentives include gift prizes, website listings, window decals, and cross-promotional opportunities with the visitor information mobile booth.
More information regarding the Tourism Ambassador Certificate program, including details about how to register, is available at visitorillia.ca.