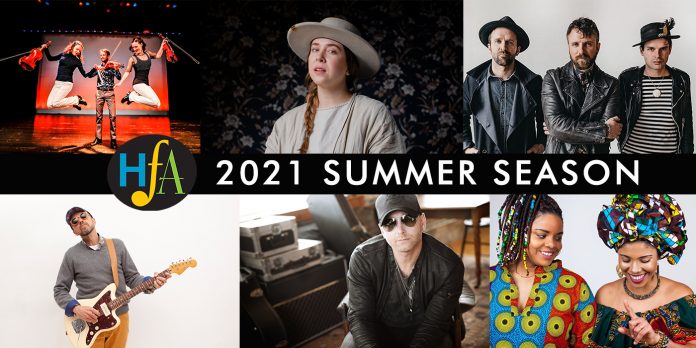 As Ontario enters the first step in its reopening plan, the Huntsville Festival of the Arts (HfA) is thrilled to announce its full 2021 Summer Programming. The theme "Arts for All Stages" will guide this year's season, with programming taking place on a variety of different "stages" and designed to coincide with regulations of each stage of the province's reopening plan. The summer will have a particular focus on outdoor activities including the Huntsville Art Crawl, free exhibits & activities and the return of live in-person concerts with Serena Ryder, Tim Hicks, The Trews, Hawksley Workman and more.
Summer kicks off with the Huntsville ART CRAWL throughout the month of June and into July. This new event is a free self-guided art tour in and around downtown Huntsville, Muskoka. Visitors can create their own free art crawl experience by touring local businesses, galleries & studios which feature exhibits, demos & interactive experiences by local artists. This inaugural event features the work of over 50 local artists exhibited in 27 different venues. Exhibitions will be open as per business hours. Visitors can pick up a map & passport at any participating business or online. If they visit 5 venues, their passport will be entered into a draw for a fantastic prize package care of the Merchants of Downtown Huntsville. Visit huntsvilleartcrawl.ca to learn more.
The month of July will feature an array of FREE and low-cost programming. Returning this year are the popular Group of Seven Canoe Murals. In 2020, artist Gerry Lantaigne, known for his work on the Group of 7 Outdoor Gallery, created 7 murals, each painted on the underside of a canoe and featuring the work of one the Group of 7 members. These canoes will be on display from July 1-31 at Algonquin Outfitters' Opeongo Lake Store (1035 Algonquin Outfitters Road) and August 1-31 at the Algonquin Art Centre (Km 20, Hwy 60). Following this, the canoes will be auctioned off as part of the Algonquin Outfitters' Paddle Art Auction in September 2021 with proceeds benefitting several arts & culture organizations across Ontario.
New this year, Gerry will lead a group of local artists from July 5-11th in the creation of 7 more canoe murals, this time featuring the work of famous Canadian artist Tom Thomson. Artists will paint the canoes "en plein air" during this week-long event in Downtown Huntsville's River Mill Park. Confirmed artists include JF Kuehnen, Helena Renwick, Tim Webb, Janine Marson, Chantelle Poisson and Zoë Valentine. The new canoes will be on display in River Mill Park throughout the summer.
July will also see the return of Music at Noon from July 12-16 on the beautiful grounds of Morgan House B&B (83 Morgan's Rd.). Now in its 21st year, the series features a series of mid-day musical offerings from talented local artists in an array of styles including classical, jazz & contemporary. Programmed by piano virtuoso Kyung-A Lee, this year's line up includes Samantha Snowden (Jazz), Kashap String Quartet (classical), Taryn Gray & Friends (contemporary), Amy Wallace (Opera/Contemporary) and a showcase of local youth scholarship winners. Capacity will be limited to under 25. Admission is free, but registration is required.
On the August long weekend, HfA hosts OFF THE BEATEN PATH in River Mill Park on August 1st. This free family friendly event features artistic demonstrations and activities inspired by nature and the beauty of Muskoka. The experience begins with hands-on art making activities using natural materials, and delicious food. Following this, visitors enjoy a delightful live installation of Les Moutons by Corpus Dance Projects. Programmed in more than 100 festivals in over 25 countries, Les Moutons (The Sheep) is an absurd and hilarious experience that will recreate a bucolic country scene in the middle of downtown Huntsville.
Finally in August, HfA will present its Fairgrounds Concert Series: a line-up of intimate and exclusive acoustic concerts with incredible and well-loved artists including Serena Ryder, Tim Hicks, The Trews and Hawksley Workman. The series also features plenty of local talent including Tobin Spring with More Barn!: The Music of Neil Young, and Huntsville Theatre Company's Broadway After Dark. These concerts will take place under the open-air covered pavilion at the Huntsville Fairgrounds (407 Ravenscliffe Rd.). These are in-person social distanced shows with a maximum audience capacity of 100. Concerts will follow guidance and regulations set out by the Simcoe/Muskoka District Health Unit and the Province's Reopening strategy. Tickets go on sale to HfA Members only June 10, then go on sale to the General Public on June 17. To purchase visit www.huntsvillefestival.ca
Throughout the various stages of COVID, HfA has presented programming for all ages on a variety of stages. The Huntsville Festival of the Arts will always put the safety of its clients and community first. All events will include enhanced health and safety protocols in line with relevant guidelines from the Province of Ontario and the Simcoe/Muskoka District Health Unit. For more information regarding COVID rules and regulations, please visit huntsvillefestival.ca.
The Huntsville Festival of the Arts would like to thank all of its generous sponsors, donors and members for supporting the festival during these challenging times. For a full list of supporters visit https://huntsvillefestival.ca/about/sponsorship/.
To learn more about our exceptional line-up of programming, or to purchase tickets, please visit www.huntsvillefestival.ca or call 705-788-2787.
2021 Huntsville Festival of the Arts Summer Programming
-Huntsville Art Crawl Downtown Huntsville | June & July
-Group of 7 Canoe Murals | June 1-September 30 | Downtown Huntsville & Algonquin Park
-Tom Thomson Canoe Murals | July 5-11 |  River Mill Park
-Music at Noon | July 12-16 | Every weekday at Noon | Morgan House B&B, 83 Morgan's Rd.
-OFF THE BEATEN PATH | August 1 | 11am-3pm | River Mill Park
-Hawksley Workman | August 6 & 7 | 8pm | Huntsville Fairgrounds
-OKAN | August 11 | 8pm | Huntsville Fairgrounds
-Tim Hicks: Stripped Down | August 13 & 14 | 8pm | Huntsville Fairgrounds
-The Fitzgeralds | August 15 | 8pm | Huntsville Fairgrounds
-Broadway After Dark | August 20 | 8pm | Huntsville Fairgrounds
-More Barn: The Music of Neil Young | August 21 & 22 | 8pm | Huntsville Fairgrounds
-Serena Ryder | August 24 & 25 | 8pm | Huntsville Fairgrounds
-The Trews | August 26 & 27 | 8pm | Huntsville Fairgrounds
Now in its 29th year, the Huntsville Festival of the Arts (HfA) is a not-for-profit charitable organization that works to strengthen community and enhance the quality of life for residents of and visitors to the Huntsville area, by providing high quality entertainment, arts education and cultural enrichment.