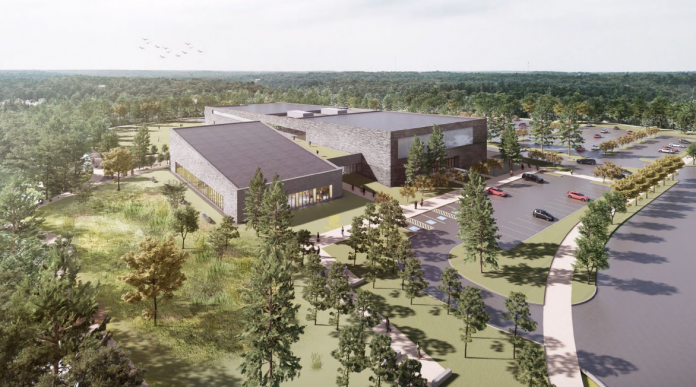 The Town of Bracebridge has retained the services of Fowler Construction Company Limited to complete site enabling works for the new Multi-Use Community Centre (MUCC).
Site enabling works include, but are not limited to: site preparation work, site rough grading, temporary construction outfall from the storm pond, utilities, granular base for parking and, once the facility is constructed, concrete and asphalt walkways and the parking lot.
In March, 2021, Fowler Construction approached the Town indicating they were interested in supporting the MUCC project by providing competitively priced site enabling works and, in addition, providing an inkind contribution. In May 2021, Fowler Construction, in support of the MUCC, submitted a below-market Stipulated Price Contract value for Site Enabling Works of $4,455,969.81, which incorporates a $250,000 in in-kind contribution to the Town.
"The Town is excited to have Fowler complete site enabling works for our new facility," said Mayor Graydon Smith. "Fowler has been a valued employer and community partner for so many years, and they continue to demonstrate their community commitment with such a generous contribution to our Town's transformational project that will be enjoyed for generations."
"Fowler and its employees are very excited to be able to contribute and participate in the construction and delivery of the New Multi -Use Community Centre for the Town of Bracebridge," said Larry Wilson, President of Fowler Construction. "For over 70 years, we have enjoyed a positive, collaborative relationship with the Town and its residents and Fowler takes seriously, our responsibility to support and give back to the community whenever we can."
When all the phases of the new MUCC are complete, it will house a single pad arena, community hall, public library, multi-sport field house, concession/café, outdoor playground, trails and open spaces. At the same time, to meet future community needs, an area for a second ice pad is being retained as part of the Multi-Use Community Centre. The MUCC provides an unprecedented opportunity for the Town to expand its inclusive and accessible recreation, culture and community service programming.
The Town's architectural services team, MJMA, are finalizing construction documents and it is anticipated that the General Contractor will be retained in September 2021.
Regular project updates will be provided by the Town as work on the MUCC continues. For further information on the Multi-Use Community Centre Project visit the Town of Bracebridge website.