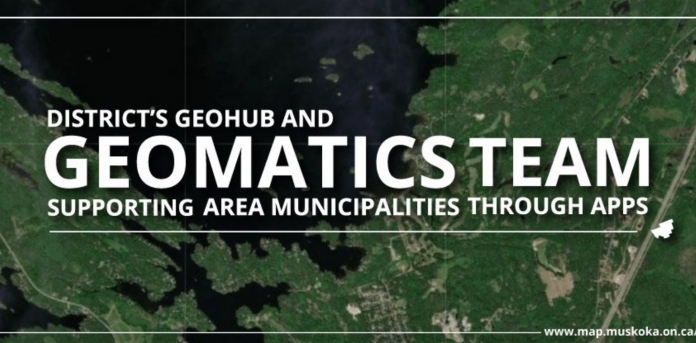 In a presentation to Council, the District's Geomatics team highlighted several new apps that have been added to the Muskoka GeoHub since its launch in 2020.  Three of the latest apps were developed to support the work of the District and the area municipalities, including a 2019 Muskoka Flood Historical Video app, a Muskoka Votes app to support the 2022 municipal election, and a new local wildfire mapping app.
---
Muskoka Flood 2019
This dashboard is for information purposes only.  In 2019, Muskoka experienced significant flooding due to an unusually high amount of snowpack and significant spring rainfall.  Bracebridge, Huntsville, Muskoka Lakes, and the District of Muskoka declared states of emergency as the water levels rose.  The Ontario Provincial Police (OPP) captured helicopter aerial footage during this emergency. This application shows the extent of the flood through an interactive map with videos and pictures from helicopter and ground footage. Thank you to the OPP for allowing the District to release these videos to the public.
Photo by Mike Reyno of Vertical Magazine courtesy of www.hovraviation.com
---
Muskoka Votes
In anticipation of Municipal Elections later this year, the District partnered with the area municipalities in Muskoka to highlight our local municipal council elections.  In this interactive StoryMap, voters are able to access information about their local candidates for the upcoming 2022 election. Information in this dashboard includes voting wards, candidate Mayors, candidate District Councillors, and candidate Ward Councillors.
---
Forest Fire Preparedness
Working closely together with the Fire Chiefs of Muskoka, the Muskoka Emergency Response Committee and the District's Environment and Watershed Team, the Geomatics team created a StoryMap highlighting current forest fire conditions in Muskoka.  The app also highlights the various fire stations and emergency reception centres located across the District and links to the towns' and townships' fire station websites to show the current fire ratings and bans in place for each area.
---
Learn more about these latest apps and other valuable geomatics (GIS) information available for Muskoka by visiting the Muskoka GeoHub: https://map.muskoka.on.ca/
The District of Muskoka is made up of six area municipalities and is responsible for delivering critical public services and programs to residents in our community.  Visit our website at www.muskoka.on.ca
Register for Voyent Alert!
In times of crisis, it is important that residents have access to trusted, timely and accurate information to ensure their own safety and that of their family and loved ones.
By downloading the Voyent Alert! app and registering, residents and visitors can select to receive notifications from a wide variety of communication channels, including mobile apps, text/SMS alerting, email or voice calling.
Registration for the service is FREE, simple and completely anonymous.
For Mobile App Alerts: Download and install the Voyent Alert! app from the Apple or Google Play app stores.  For Email, Text Message or Voice Call Alerts: Register online at https://register.voyent-alert.com