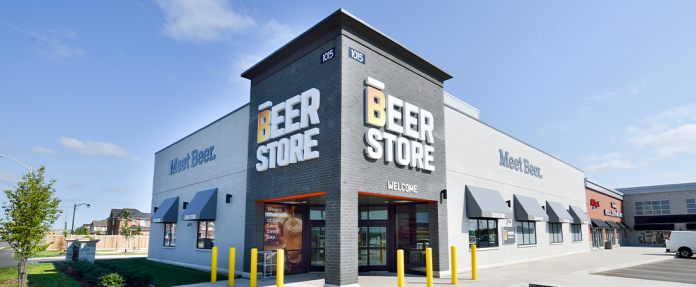 On Thursday July 1st, 84 select Beer Store Retail locations across the province will be open for business.
The list of select stores is below. Many more stores will have extended hours on June 30th.
To learn more about our store hours and how TBS responds during the COVID-19
pandemic, please visit our website at www.thebeerstore.ca.
Wednesday, June 30th Extended Closing
July 1st Canada Day Openings
2002 Brampton 198 Queen St. E. 7012 10 pm 11 to 6
2005 Brampton 180 Sandalwood Pkwy. 7012 10 pm 11 to 6
2006 Brampton 80 Peel Centre Dr. 7012 10 pm 11 to 6
2007 Bolton 150 McEwen Dr. E. 7012 10 pm not open
2008 Georgetown 236 Guelph St. 7012 10 pm 11 to 6
2011 Mississauga 6780 Town Centre Circle 7012 10 pm not open
2016 Brampton 932 North Park Dr. 7012 10 pm not open
2018 Vaughan 7850 Weston Rd. 7012 no extension 11 to 6
2056 Mississauga 2425 Truscott Dr. 7014 no extension 11 to 6
2057 Mississauga 2458 Dundas St. W. 7014 no extension 11 to 6
2059 Mississauga 2925 Eglinton Ave. W. 7012 no extension 11 to 6
2062 Brampton 55 Charolais Blvd. 7012 10 pm not open
2101 Oshawa 200 Ritson Rd. N., Unit B 7033 10 pm 11 to 6
2107 Bowmanville 195 King St. E. 7033 10 pm not open
2109 Port Perry 677 Queen St. 7033 9 pm not open
2113 Ajax 75 Kingston Rd. E. 7033 10 pm 11 to 6
2114 Whitby 3950 Brock St. N. 7033 no extension 11 to 6
2141 Cobourg 476 Division St. 7033 no extension 11 to 6
2303 Toronto 452 Bathurst St. 7013 10 pm 11 to 6
2308 Etobicoke 1-3560 Lakeshore Blvd. W. 7014 10 pm 11 to 6
2311 Toronto 904 Dufferin St. 7014 10 pm 11 to 6
2314 York 3524 Dundas St. W. 7014 10 pm not open
2322 Mississauga 3154 Hurontario St. 7012 10 pm not open
2328 Mississauga 420 Lakeshore Rd. E. 7014 10 pm not open
2333 Mississauga 1550 Dundas St. E. 7012 10 pm 11 to 6
2353 York 1515 Keele St. 7014 10 pm not open
2354 York 529 Oakwood Ave. 7013 10 pm not open
2356 North York 1718 Wilson Ave. 7014 10 pm 11 to 6
2360 Etobicoke 1735 Kipling Ave. 7014 no extension 11 to 6
2362 Etobicoke 1530 Albion Rd. 7012 10 pm 11 to 6
2371 York 2153 St. Clair Ave. 7014 10 pm 11 to 6
2372 North York 2005 Finch Ave. W. 7012 10 pm not open
2376 Toronto 2625A Weston Rd. 7013 10 pm 11 to 6
2379 North York 81 Billy Bishop Way, Unit D3 7014 10 pm 11 to 6
2405 Scarborough 3130 Danforth Ave. 7016 10 pm 11 to 6
2407 East York 1270 Woodbine Ave. 7016 no extension 11 to 6
2409 Scarborough 2727 Eglinton Ave. E. 7016 10 pm 11 to 6
2412 Scarborough 1437 Victoria Park Ave. 7016 10 pm not open
2419 Toronto 227 Gerrard St. E. 7013 9 pm 11 to 6
2423 Toronto 636 Greenwood Ave. 7016 no extension 11 to 6
2454 North York 6212 Yonge St. 7013 10 pm not open
2456 Scarborough 4479 Kingston Rd., Unit 1 7016 10 pm not open
2460 Scarborough 3561 Lawrence Ave. E. 7016 no extension 11 to 6
2466 Scarborough 2360 Kennedy Rd. 7013 10 pm 11 to 6
2472 Markham 5804 Hwy. #7 7016 no extension 11 to 6
2474 Pickering 1355 Kingston Rd. 7016 10 pm 11 to 6
2475 Richmond Hill 10375 Yonge St. N. 7013 no extension 11 to 6
2476 Stouffville 5779 Main St..Unit 109 7016 10 pm not open
2478 Pickering 705 Kingston Rd. 7016 10 pm not open
2486 Scarborough 871 Milner Ave. 7016 10 pm 11 to 6
3002 Brantford 280 Murray St. 7004 no extension 11 to 6
3004 Brantford 300 King George Rd. 7004 no extension 11 to 6
3011 Brantford 50 Market St. S. 7004 10 pm 11 to 6
3053 Chatham 132 Richmond St. 7001 no extension 11 to 6
3107 London 414 Wharncliffe Rd. S. 7002 10 pm 11 to 6 Drive Thru only
3108 London 1199 Oxford St. W. 7002 10 pm 11 to 6
3112 London 1080 Adelaide St. N. 7002 no extension 11 to 6
3151 Sarnia 1107 Confederation St. 7001 no extension 11 to 6
3191 Grand Bend 21 Ontario St. N. 7001 no extension 11 to 6
3204 Goderich 395 Huron Rd. 7002 9 pm not open
3251 Windsor 2380 Walker Rd. 7001 no extension 11 to 6
3253 Windsor 790 Goyeau St. 7001 10 pm 11 to 6
3258 Windsor 8150 Tecumseh Blvd. E. 7001 no extension 11 to 6
3291 Leamington 255 Erie St. S. 7001 no extension 11 to 5
3401 Barrie 30 Anne St. S. 7034 10 pm 11 to 6
3403 Barrie 531 Bayfield St. 7034 10 pm 11 to 6
3404 Alliston 161 Young St. 7034 no extension 11 to 6
3410 Coldwater Sturgeon Bay Rd., PO Box 118 7034 9 pm not open
3412 Meaford 320 Sykes St. S. 7034 9 pm not open
3413 Midland 291 Midland Ave. 7034 9 pm not open
3417 Penetang 15 Main St., PO Box 6010 7034 8 pm not open
3418 Stroud 7947 Yonge St. 7034 7 pm not open
3419 Tottenham 55 Queen St. 7034 7 pm not open
3422 Stayner 7380 Hwy. #26 7034 9 pm not open
3426 Alcona 945 Innisfil Beach Rd. 7034 9 pm not open
3427 Schomberg 17250 Hwy. #27 7034 8 pm not open
3428 Barrie 71 Mapleview Dr. 7034 10 pm 11 to 6
3429 Barrie 640 Yonge St. 7034 10 pm not open
3441 Collingwood 415 First St. 7034 10 pm 11 to 6
3443 Midland 9350 Hwy. #93, Box 17 7034 no extension 11 to 6
3444 Orillia 275 Atherly Rd. 7033 no extension 11 to 6
3503 North Bay 2035 Cassells St. 7005 10 pm not open
3543 Parry Sound 17 William St. 7199 8 pm not open
3602 Sudbury 1485 Lasalle Blvd. 7005 10 pm not open
3604 Sudbury 1889 Paris St. 7005 10 pm not open
4006 Orangeville 270 Broadway St. 7034 no extension 11 to 6
4007 Guelph 111 Silvercreek Pkwy. N. 7004 10 pm 11 to 6
4040 Guelph 710 Woolwich St. 7004 no extension 11 to 6
4056 Hamilton 282 Parkdale Ave. N. 7003 no extension 11 to 6
4057 Hamilton 1111 Barton St. E. 7003 10 pm 11 to 6
4058 Hamilton 673 Upper James St. 7003 10 pm not open
4059 Hamilton 959 Fennell Ave. E. 7003 10 pm 11 to 6
4060 Hamilton 75 Centennial Pkwy. N. 7003 no extension 11 to 6
4065 Burlington 2025 Guelph Line 7004 no extension 11 to 6
4069 Burlington 5051 New St. 7004 no extension 11 to 6
4075 Hamilton 150 Barton St. E. 7003 10 pm 11 to 6
4078 Hamilton 1408 Upper James St. 7003 no extension 11 to 6
4103 Kincardine 427 Broadway St. 7034 8 pm not open
4106 Mount Forest 429 Main St. N. 7034 8 pm not open
4107 Owen Sound 1155 First Ave. E. 7034 no extension 11 to 6
4108 Port Elgin 355 Goderich St. 7034 8 pm not open
4109 Sauble Beach 704 Main St. 7034 8 pm not open
4110 Shelburne 802 Main St. E. 7034 8 pm not open
4111 Southhampton 330 Railway St., PO Box 2312 7034 8 pm not open
4112 Walkerton 430 Durham St. 7034 8 pm not open
4113 Wiarton 690 Berford St., PO Box 202 7034 8 pm not open
4115 Owen Sound 965 10th St. W. 7034 8 pm not open
4156 Kitchener 250 Bleams Rd. 7004 10 pm 11 to 6
4157 Cambridge 200 Franklin Blvd. 7004 10 pm 11 to 6
4162 Cambridge 150 Holiday Inn Dr. 7004 10 pm 11 to 6 Drive Thru only
4164 Waterloo 70 Weber St. N. 7004 no extension 11 to 6
4166 Kitchener 875 Highland Rd. W., Unit 80 7004 no extension 11 to 6
4167 Kitchener 1120 Victoria St. N. 7004 no extension 11 to 6
4170 Waterloo 624 King St. N. 7004 10 pm 11 to 6 Drive Thru only
4201 St. Catharines 99 Dieppe Rd. 7003 10 pm not open
4209 Niagara Falls 6757 Lundy's Lane 7003 10 pm not open
4214 Welland 390 Lincoln St. E. 7003 10 pm not open
4301 Belleville 167 Bell Blvd 7035 no extension 11 to 6
4351 Cornwall 838 Sydney St. 7031 no extension 11 to 6
4502 Kingston 290 Concession St. 7035 no extension 11 to 6
4557 Keswich 443 The Queensway S. 7033 10 pm not open
4590 Lindsay 370 Kent St. W. 7033 9 pm 11 to 6
4601 Ottawa 1860 Bank St. 7031 10 pm 11 to 6
4603 Ottawa 1984 Baseline Rd. 7031 10 pm 11 to 6
4609 Ottawa 515 Somerset St. W. 7031 10 pm 11 to 6
4618 Gloucester 2018 Ogilvie Rd. 7031 10 pm 11 to 6
4620 Nepean 3500 Fallowfield Rd. 7031 10 pm 11 to 6
4622 Kanata 499 Terry Fox Dr., Unit #5 7031 10 pm 11 to 6
4626 Orleans 2276 Tenth Line Rd., Unit B1 7031 10 pm 11 to 6
4701 Peterborough 570 Lansdowne St. W. 7035 no extension 11 to 6