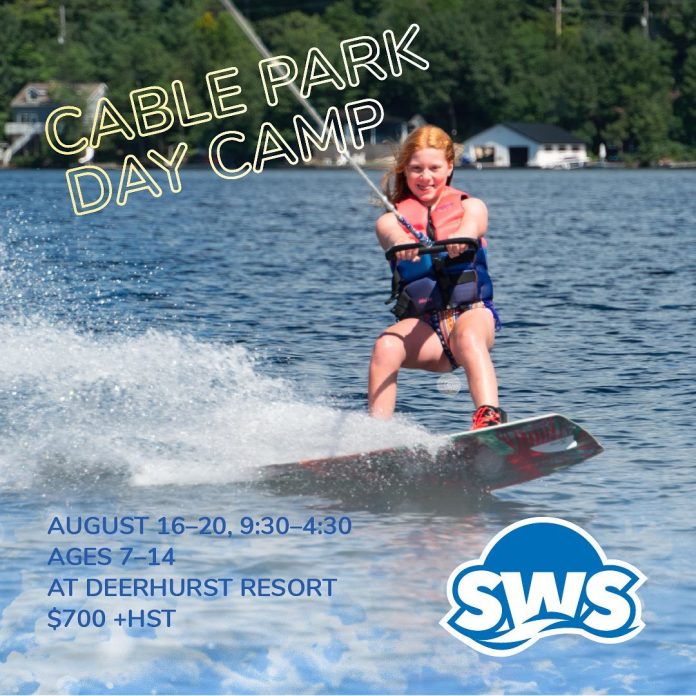 Back by popular demand, The SWS Ski School is offering another one-week Day Camp at the state-of-the-art Wakeboard Cable Park at Deerhurst Resort in Huntsville.
Each day includes three cable sets. On Tuesdays and Thursdays, the morning set is substituted for a WAKESURF Set!
The Camp is open to kids of all abilities, from beginner to advanced. Riders get one on one instruction for all three of their daily sets.
Meet new friends, learn from the highly skilled instructors and watch your riding evolve throughout the week.
August 16th – 20th
9:30 am to 4:30 pm
Ages 7 – 14
Limited spots available. Book now by contacting
Do not delay, register today.
https://www.youtube.com/watch?time_continue=54&v=8H951N3AgOw&feature=emb_logo
Quick Facts:
New to the Deerhurst Ski School is a System 2.0 Cable Park, featuring beginner-to-advanced rails and jumps. Riding a cable is fun and easy for all levels of riders; the upwards pull enables effortless starts and has proven to provide a quick learning curve for beginners. With its continuous ride and strong tension it also allows advanced riders to progress with water tricks or improve their rail riding skills rapidly.