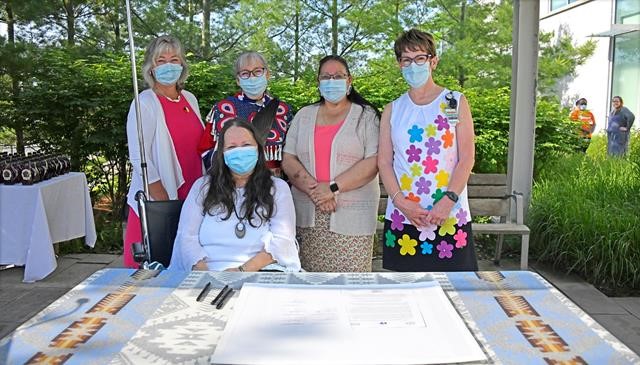 Royal Victoria Regional Heath Centre, (RVH) honoured National Indigenous Peoples Day with the official signing of a Letter of Relationship (LOR) between RVH and the Indigenous Health Circle (IHC), an initiative of the Barrie Area Native Advisory Circle (BANAC).
"The signing of this Letter of Relationship formalizes and renews our shared commitment to continue to improve and advance care, chronic disease prevention, health initiatives, and systems-level change with and for First Nations, Inuit, Métis and urban Indigenous peoples in the Simcoe Muskoka region," says Janice Skot, RVH president and CEO.
Joining Skot for the signing was Charlotte Wallis, Chair of the RVH Board of Directors; Lynn Monague-Sauve, President and Board Chair, Barrie Area Native Advisory Circle; Brenda Jackson, Indigenous Health Circle Co-Chair, and Germaine Elliott, Indigenous Health Circle Co-Chair.  The significance of the Letter of Relationship was marked through Indigenous ceremony, the lighting of a sacred pipe and celebrated through traditional songs and dance.  Following this the hospital grounds were smudged, which is one of many Indigenous practices of harmony and balance.
"At RVH, we embrace diversity and inclusion and are especially proud of the work we have undertaken to respect the distinct needs of the Indigenous communities and valued partners within the region. Recently, for example, we respectfully engaged and consulted regional Indigenous partners on our plans for the South Campus to ensure safeguards to the environment, and that the building design appropriately acknowledges and honours the significance of the land for Indigenous Peoples. To learn from Indigenous partners, we held consultation sessions; a Partner Summit; met representatives from the Williams Treaties First Nations and created a survey focused on Indigenous-specific feedback."
RVH has also taken several proactive steps, such as implementing a smudging policy throughout the hospital and continue to expand Indigenous Patient and Family Navigation services which includes, an Indigenous Navigator at the RVH Cancer Program. Soon another two Indigenous Navigators will be added to expand available services and support RVH programs. Through a partnership with Mamaway Wiidokdaadwin Indigenous Primary Care Team, RVH piloted a project to increase culturally safe, trauma informed mental health pathways for Indigenous patients.
RVH also became the first health centre in Canada to unveil the Gord Downie & Chanie Wenjack Fund Legacy Space, an installation in the health centre, offering everyone an opportunity to pause and reflect on Indigenous history and reconciliation in Canada.
"It is significant that we have done this signing on National Indigenous Peoples Day; a day dedicated to honouring the contributions and cultures of First Nations, Métis, Inuit and urban Indigenous Peoples in Canada," says Lynn Monague-Sauve, President and Board Chair at Barrie Area Native Advisory Circle. "RVH's leadership is committed to learning about the importance of Indigenous histories; celebrating the richness of our cultures and achievements; and reflecting on how best to meaningfully advance efforts in reconciliation.  The Indigenous Health Circle, the Barrie Area Native Advisory Circle and RVH will continue to move forward on this path together."