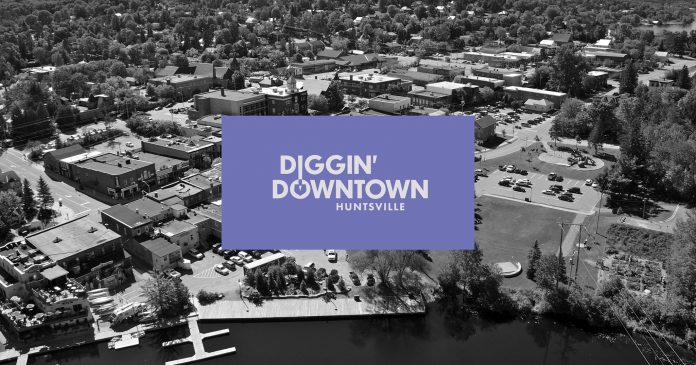 The Town of Huntsville and District of Muskoka are pleased to announce Diggin' Downtown road closures and detours will lift by end of day Friday, June 17, 2022 and Caroline Street will be reopened to two-way traffic, as construction enters the fifth and final stage of the project.
"We are pleased that all underground infrastructure has been installed and property owners in the downtown core are successfully operating on new connections," says Mark Misko, Director of Engineering and Transportation for the District of Muskoka. "As we enter the final stage of construction, crews will be working to make finishing touches on above-ground work and completing the final lift of asphalt in the next few weeks."
While traffic resumes on Main Street from Lorne Street to the bridge, construction crews will be present in the downtown core over the next several weeks to complete Stage 5 requirements. Sidewalk and curb work, streetscaping elements and preparation for the final lift of asphalt will be achieved throughout June and July. Motorists are advised temporary lane closures may be in place from time to time as crews address this work, even after the asphalt is completed.
What to expect in Stage Five of Construction:
Final streetscape elements installed
Sidewalks and curbs completed
Preparation for final asphalt
Overnight closure of Main Street from the bridge to Lorne Street for final lift of asphalt
Quality assurance review
Final Lift of Asphalt:
To complete the final lift of asphalt, a full road closure of Main Street from the bridge to Lorne Street is required to achieve a smooth driving surface downtown. To mitigate the disruption to traffic and impact on the downtown core, Huntsville Council approved exemptions to the noise bylaw so the work can be completed in the evening hours starting at 7:00pm and over-night until 7:00am. It is anticipated that crews will need 1 or 2 nights to complete paving activities. The exact schedule and dates for this closure will be communicated with advance notice, as construction crews plan for and work around weather forecasts.
The Town of Huntsville and District of Muskoka would like to thank the community for their patience, understanding, and cooperation during this construction project.