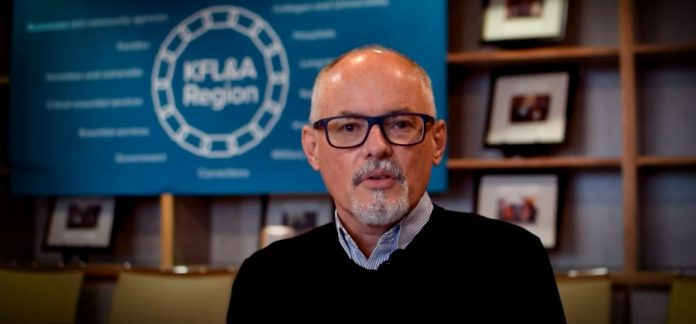 The Ontario government will table a motion on Monday, May 31, 2021, that, if passed, would appoint Dr. Kieran Moore as the next Chief Medical Officer of Health for the province of Ontario. Dr. Moore would succeed Dr. David Williams effective June 26, 2021.
Since July 1, 2017, Dr. Moore has served as the local medical officer of health for Kingston, Frontenac and Lennox & Addington Public Health. Dr. Moore is also a member of the COVID-19 Vaccine Distribution Task Force. Prior to his appointment as the Medical Officer of Health, Dr. Moore served as the region's Associate Medical Officer of Health from 2011 onwards. Under Dr. Moore's leadership, the public health region has taken a proactive stance against COVID-19 and the morbidity and mortality rates remain low with limited impacts of the virus on the region's hospitals. In addition, there have been no deaths or any major outbreaks in long-term care or high-risk retirement homes. The region has also reached the key milestone of administering first doses of COVID-19 vaccines to over 50 per cent of the adult population as of May 17, 2021.
Throughout Dr. Moore's medical career, the real-time evaluation of health data has been a key interest and priority. During his time at Kingston, Frontenac and Lennox & Addington Public Health, the public health unit has received provincial, national, and international acclaim for the rollout of its Acute Care Enhanced Surveillance (ACES) System, Public Health Information Management System (PHIMS), and most recently the South-Eastern Health Integrated Information Portal (SHiiP). PHIMS was notably recognized, as it was used as a real-time environmental monitoring system for the 2015 Pan American Games held in Toronto.
Dr. Moore has also had the distinction of serving in a variety of other roles, including as a Program Director for the Public Health and Preventive Medicine Residency Program at Queen's University, as a Professor of emergency, family medicine and public health sciences, at Queen's University, as an attending physician at Kingston General Hospital (KGH) and Hotel Dieu Hospital (HDH), and as a principal investigator at the Canadian Institutes of Health Research' funded Canadian Lyme Disease Research Network.
In 2014, the Association of Ontario Health Centres named Dr. Moore a Champion for Public Health and Primary Health Care. This designation is awarded to an individual who shows significant leadership in advancing the relationship between Primary Health Care and Public Health at system, managerial and/or frontline levels.
Dr. Moore received his Medical degree from the University of Ottawa and subsequently received his specialty certification in Family Medicine as well as Emergency Medicine from the College of Family Physicians of Canada. He has Master's degrees in Disaster Medicine (DM) and Public Health (PH) as well as a Diploma in Tropical Medicine and Hygiene. He has completed a Canadian Royal College of Physicians and Surgeons Fellowship in Public Health and Preventive Medicine at Queen's University.