Muskoka Brewery is launching Veer, its entry into the alcohol-free beer category to address different, more complex consumption habits.
The new lager with lime officially launched two weeks ago. While larger, multinational breweries have been promoting alcohol-free versions of their flagship beers for several years now, Muskoka is entering with a lime-flavoured product it believes the first of its type.
"We've been working on expanding our portfolio for a few years now," says Sarah Au, senior director of marketing at Muskoka Brewery, Vancouver Island Brewing and Rally Beer Co.
Though this is the brewer's first alcohol-free beer, it has ventured into the non-alcoholic beverage space with Wandr, a sparkling tea RTD-type drink. Au says the 27-year-old brewery has a number of sub-brands, but with Veer, it wanted to marry its existing brand equity in craft beer by featuring the Muskoka Brewery branding more prominently, similar to how it would for any of its other beers. But it also wanted to set it apart in a unique way: "Veer" sounds like beer, and injects a bit of personality into the category, Au says, as it also means change direction or course.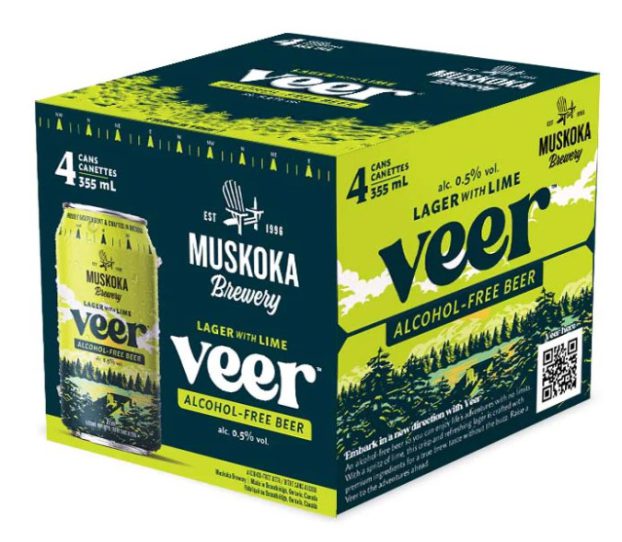 Au tells strategy that people's relationship with alcoholic beverages, particularly beer, is changing, whether it's younger demos or even how people are behaving post-COVID. It's not so much that people don't drink at all, or about serving a teetotaler market, it is just a matter of serving different lifestyles, habits and times of day, Au explains.
"I think it's even grown in the past year or so," Au says, adding that there's an entire section of on- and off-premise non alcoholic options. The perception of who drinks these products and when, she says, has "changed drastically."
In terms of design, which is done in-house, the brewery wanted to leverage the region of Muskoka and the feeling of relaxation at the cottage.
"We also wanted a slightly different personality from say, for example, our Cream Ale, which is the first beer we ever launched back in 1996 and has a chair on the dock as well." Veer offers a modern take on that, with neon colours and a navy contrast. The lip of the can references directions, with little compass points, a subtle design highlight.
Right now, Veer is available in 72 Beer Stores and Muskoka's sales team is working hard to gain distribution across all channels, particularly grocery. There are no distribution limits, which Au admits is something the brewer is not used to, as conventional alcoholic beverage offerings are subject to lots of regulation.