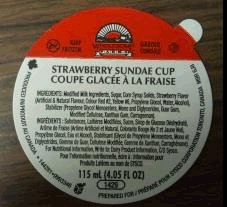 Continuing coverage on this story we brought you.

The food recall warning issued on March 31, 2017 has been updated to include additional product information. This additional information was identified during the Canadian Food Inspection Agency's (CFIA) food safety investigation.

Central Smith Creamery is recalling Wholesome Farms brand Strawberry Sundae Cup from stores due to possible Listeria contamination. Consumers should not consume the recalled product described below. Food service institutions, such as hospitals and nursing homes, should not serve or use the recalled product described below.
Recalled products
Brand Name
Common Name
Size
Code(s) on Product
UPC
Wholesome Farms
Strawberry Sundae Cup
115 ml
03204
None
Wholesome Farms
Strawberry Ice Cream Sundae Cup (case)
48 x 115 ml
7382200018032042
2/1/17
00074865915038
This recall was triggered by Canadian Food Inspection Agency (CFIA) test results.

There have been no reported illnesses associated with the consumption of this product.