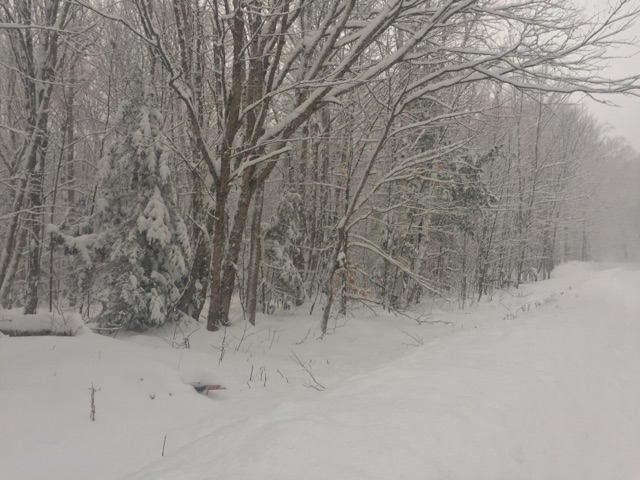 Snow squall warning in effect for:
Huntsville – Baysville
Town of Parry Sound – Rosseau – Killbear Park
Snow squalls are expected. Under the snow squall bands, visibilities will be significantly reduced due to the heavy snow combined with blowing snow, and snow will quickly accumulate.
Snow squalls are coming off Georgian Bay and will continue tonight. Local snowfall amounts of 20 to 30 cm are likely by Thursday morning.
Snow squalls cause weather conditions to vary considerably; changes from clear skies to heavy snow within just a few kilometres are common. Prepare for quickly changing and deteriorating travel conditions. Visibility will be suddenly reduced to near zero at times in heavy snow and blowing snow.

Snow squall watch in effect for:
Bracebridge – Gravenhurst
Port Carling – Port Severn
West to east bands of lake effect snow off Georgian Bay are expected to continue today and tonight and may shift into the region. Local snowfall amounts of 10 to 15 cm are possible.
Travel may be hazardous due to sudden changes in the weather. Visibility may be suddenly reduced at times in heavy snow. Surfaces such as highways, roads, walkways and parking lots may become difficult to navigate due to accumulating snow. Public Safety Canada encourages everyone to make an emergency plan and get an emergency kit with drinking water, food, medicine, a first-aid kit and a flashlight. For information on emergency plans and kits go to http://www.getprepared.gc.ca/
The Muskoka411 social media channels are your best source for weather and road conditions Brought to you by Baseline Towing & Heavy Recovery Call (705) 788-3912