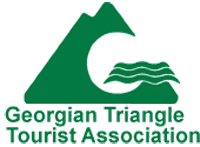 The Georgian Tourism Triangle Association (GTTA) is pleased to announce that the 2017 Visit South Georgian Bay See & Do Guide and the VisitSouthGeorgianBay.ca website have been officially launched in both English and French.
The GTTA, as the leading voice of South Georgian Bay tourism, strives to promote tourism members and municipal partners in Simcoe & Grey Counties through a wide variety of services which will now include www.visitsouthgeorgianbay.ca and www.voyagesbaiegeorgienne.ca. This year, in cooperation with funding received from RTO7  BruceGreySimcoe and leveraging County & Municipal partnership contributions, the GTTA translated a condensed version of the 2017 See & Do Guide en français. Additionally, over 76,000 copies of the French Guide & English Guides were distributed in Montreal, QC this month.
Mylisa Henderson, Board Member of the GTTA noted that Tourism research indicates that the Quebec market is looking for family-friendly, outdoor experiences including beaches & cycling as well as festivals & events. Our region has the greatest offering to attract new visitors and ultimately increase visitor spending to the region this summer. Mylisa added, Translating the website and a condensed version of the See & Do Guide creates a first impression to promote the gems of our region too.