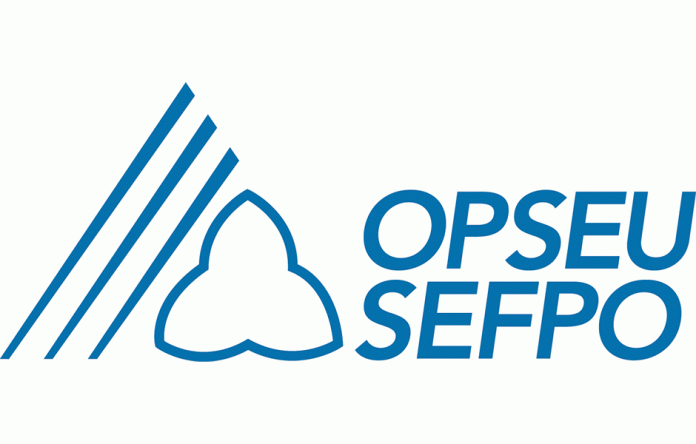 Members of the Ontario Public Service Employees Union (OPSEU) that work at Waypoint Centre for Mental Health Care are picketing during Waypoint's annual gala on March 8, hoping to spread the word about scheduling issues and express their frustration with management.
The group is expecting anywhere from 100 to 175 people to picket the event from 3 p.m. to 7 p.m. outside the Waypoint Centre from the Fuller Ave. entrance to 500 Church St. entrance. OPSEU representatives said the information picket focuses on the implementation of a new master schedule that management created without the input of employees. They said that during the last round of collective bargaining, the employer agreed to establish a joint scheduling committee, but the committee has been dormant. OPSEU represents 1,104 workers at Waypoint (593 part-time workers and 511 full-time workers) with about 550 in direct care roles.
"The union wants to engage the company," said Pete Sheehan, president of OPSEU Local 329 at Waypoint. "The union wants to work with management and come up with a schedule that is going to work not only for the company, but for the staff and for the patients, because what they're proposing is doing nothing for any of the parties involved."
The new schedule has some employees being scheduled for five out of six weekends in a six-week period while other receive 112 hours over the six weeks, Sheehan said. In addition, 90 per cent of part-time shifts are only four hours long and many employees drive between 60 and 100 kilometres to get to work. For full-time employees, their weekly schedules have no consistency, throwing off the balance between work and home life.
Sheehan said the union put out a short survey on the evening of March 6 and by the morning of March 8, they had received 197 responses. All of them were negative.
"If I had been aware of such negative changes being made a year ago when I was hired, I would have thought much more carefully about starting a new life in a new place, away from family and friends," said one comment from a union member. Other employees described the changes as "disheartening and stressful" and many called for better decision-making by management.
OPSEU President Warren (Smokey) Thomas said that Waypoint has been a problem since it opened. Part of the issue is management's decision to "bypass the union at every turn," he said.
Thomas said that issues with management have contributed to the high turnover rate at the centre with half of new hires quitting within the first six months. He added that recruitment and related processes are expensive, leading to an estimate of $5 million in extra staffing costs.
While better scheduling would save them money, improve the employee experience and make continuity of care better, Thomas thinks that management doesn't care enough to make the proper changes.
"Over the last 20 years, the way that the hospitals treat their employees [has become] just deplorable," Thomas said. "And this place, I would say, is the worst hospital where we have members in the entire province for how they treat staff."
He plans to call on the Minister of Health Christine Elliott and Simcoe North MPP Garfield Dunlop to tour Waypoint for themselves. He hopes that the visit will help address the wide range of issues at Waypoint including problems with management and with the building itself. The OPSEU also has a hearing with the Ontario Labour Review Board regarding the scheduling issues on May 15.
A representative from Waypoint said they have been aware of the information picket since last week and have advised their guests and hospital visitors that OPSEU may share information with them as they enter the facility.