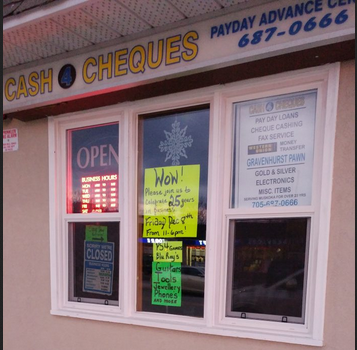 The success of any business lies in first identifying a need for its services, which is exactly what local owner/operator Tracy McAra did when she opened Cash-4-Cheques 25 years ago.
Opening its doors in Huntsville 25 years ago, this Friday, back on December 8, 1992, Cash-4-Cheques has been going strong ever since. McAra has seen a lot of changes in the banking world over that time. In 1994, she opened a location in Kitchener, which she sold one year later after discovering that her heart lay in Muskoka. In 2002 McAra opened at the current location in Gravenhurst, and followed that up with a partnership in Parry Sound five years later. In 2013, the Huntsville location was sold.
It has been a busy 25 years for McAra, but she says she's never looked back. She says she prefers to operate more at a "mom & pop" level as opposed to the corporate level, meaning she truly wears her heart on her sleeve and is proud to say she has helped the less fortunate out on many different occasions. Providing for families at Christmas, Thanksgiving, Easter, Hosting Birthday parties, sending kids to play hockey or soccer, preparing a simple meal or being a shoulder to lean on.
McAra says that her love to help is the key to staying positive and not taking life for granted. She gives thanks to both her parents, George and Cora McAra, for getting her started. "I have lost both of them now," she says, "But I'm very grateful every day for the wonderful ways they taught me in life."
Cash-4-Cheques welcomes all to its 25th Anniversary Celebration on Friday, December 8 from 11 a.m. to 6 p.m. Join us at 130 Muskoka Rd. N in Gravenhurst and for cake and refreshments, as well as the chance to win a draw for $25.00 in cold hard cash.
"I would like to take this time to thank all of my clients over the years," says McAra. "Especially those who have been with me for the last 25 years!"