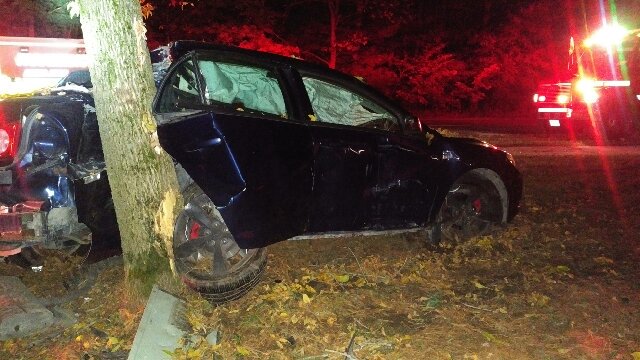 Just after midnight on October 11, 2017, Bracebridge OPP, with assistance from the Gravenhurst Fire Department and Muskoka Paramedic Services responded to a report of a single vehicle collision on Muskoka Road North in Gravenhurst.
Officers arrived on scene and located the car that had struck a tree near Lofty Pines Crescent. Two of the car's occupants received minor injuries, while a third occupant was transported to hospital by ORNGE air ambulance with major injuries.
Muskoka Road North was closed for about seven hours to allow the OPP to conduct their investigation, which is ongoing with charges are pending.  Police ask that anyone with information please contact the Bracebridge OPP or call Crime Stoppers at 1-800-222-8477.
Photo Credit: Gravenhurst Fire via Twitter