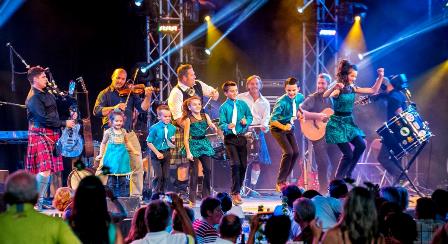 The Gravenhurst Opera House Presents 'THE NEXT GENERATION LEAHY''A Celebration of Music, Song and Dance' Just In Time for the Holiday Season
Back by popular demand 'The Next Generation Leahy' returns to the stage at the Gravenhurst Opera House on Tuesday December 13th, as they share the magic of Christmas with you!  Doug Leahy and his wife Jennifer, together with their children, bring over three generations of Leahy musicianship to their celebration through music, song, and dance.
"It's going to be a magical night and the perfect show to get you into the holiday spirit," said Krista Storey, manager of arts and culture. "We're also thrilled to announce that the Muskoka Youth Choir will be joining us to open the evening," added Storey.
Doug, as a member of "Leahy" and Jennifer, having played music throughout her life, both understand the delight and exhilaration only music can provide. It's no wonder then that their children understand innately that music will be a huge part of their lives too. Still all in elementary school, the children are accomplished multi-instrumentalists. Led by Doug, live performances are filled with the high-energy, infectious Celtic-based music people associate with the Leahy heritage. Fiddle, cello, French accordion, singing, piano, and French-Canadian step-dancing all find a voice on stage. This rare talent in children so young is an inspiration to other children and families alike, showing just what young people are capable of.
A Next Generation Leahy Christmas performance is all this and more. Not only do the Leahy children exhibit a joie de vivre in general, the focus on the beautiful music of the Christmas season makes the night truly memorable. The joy of music is meant for all, and Doug and his family are set to share that joy with you during this Christmas season in Muskoka.
Tuesday, December 13th. Doors open at 6:00 pm, show is at 7:00 pm. Tickets are $30 for Regular, $15 for Students and are available at the Box Office by calling (705) 687-5550 or 888-495-8888 or on-line at
www.gravenhurstoperahouse.com