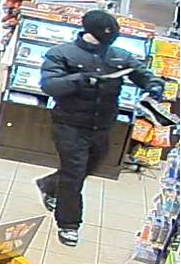 The Orillia OPP is currently investigating a Robbery at a business, on Westmount Drive.
OPP say on January 26, 2019 at 2:45 a.m. a suspect entered the, Westmount Drive, business, brandished a knife and demanded cash. The suspect departed on foot, with cash, and was last seen Westbound on Mississaga Street.
The suspect is described as:
Caucasian male
Approximately 5'9″.
Wearing black balaclava. Appears to be a knitted balaclava.
Jacket, two-tone colour jacket, black and lighter gray.
Wearing black pants and black gloves.
Footwear was black running shoes with white soles.
The male suspect was holding a squared lunch bag, white and green in colour with a specific design.
The Orillia OPP and Orillia OPP Crime Unit continue to investigate this incident. If anyone recognizes the suspect or has information that could assist police with their investigation you are encouraged to contact police at 1-888-310-1122 or 705-326-3536.