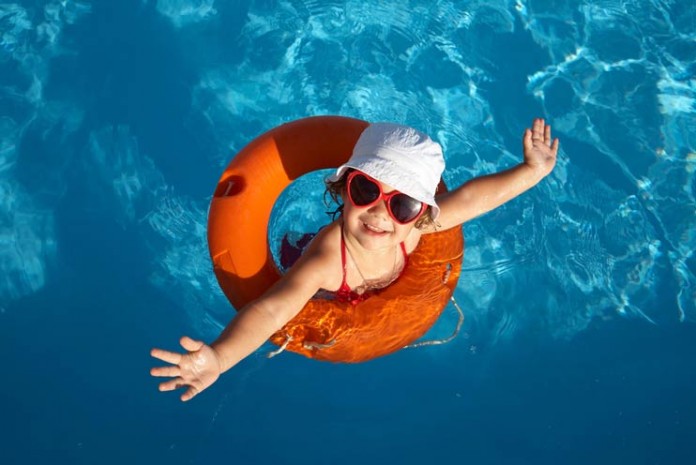 Healthy Swimming
Swimming is a great physical activity that can be enjoyed safely by people of all ages by adapting swimming behaviours that will protect you and others from water-borne illness. The aim is to help keep the pool water clean and safe by taking a few simple and effective steps each time you swim:
Shower with soap before you start swimming to remove all lotions and natural body oils.
Keep the pee and poo out of the water.

Don't swim when you have diarrhea or have had diarrhea within the past two weeks. Even microscopic amounts of fecal matter can contaminate an entire pool or hot tub.
Take frequent bathroom breaks.
Wash your hands after using the toilet or changing diapers.
Take a rinse shower before you get back into the water.

Take children on bathroom breaks every 60 minutes or check diapers every 30–60 minutes.

Change diapers in the bathroom or diaper-changing area, not at poolside where germs can rinse into the water.

Don't swallow the water you swim in.
Healthy swimming depends on what swimmers bring into – and keep out of – the pool. While pool operators and inspectors do have steps to take to keep people safe,  you also need to play a role in keeping yourself and the swimmers around you healthy this summer and year-round.
Drowning Prevention
Top Tips to Be Safe Around Water
Actively supervise your children – Stay within sight and arm's reach when your child is in or NEAR water. Kids don't know their limits: they'll overestimate their skills and underestimate their environments like water depth or strength of current.
Life Jackets = Life Savers – Young children under 5 years of age and weak swimmers should wear lifejackets when they are in, on or around the water. You and your children should always wear lifejackets when riding in a boat. Make it a habit, like wearing your seatbelt.
Fence it, Prevent it! – Almost half of all child drownings happen in backyard swimming pools. Researchers estimate that 7 out of 10 child drowning's can be prevented with four-sided pool fencing.
Enroll your child in swimming lessons – Only 3% of children who drowned in Canada from 2001 – 2010 were identified as strong swimmers. Ensuring kids have access to swimming lessons is key.
Be Prepared – Get trained in water skills, swimming skills, CPR and first aid. If your child gets in trouble while you are supervising, water safety training could help you save his or her life.