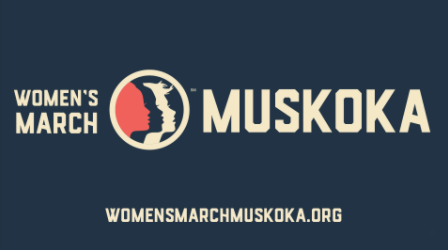 On January 19th, 2019 at 12:30 pm, Women's March Muskoka will lead a walk through the downtown core of Huntsville, ON. A women-led initiative, the walk aims to bring the entire community together, regardless of gender identity, in solidarity of women's issues that remain prevalent in our society both locally and globally.
The walk will depart from Huntsville Place Mall at 12:30 pm and stroll down to River Mill park at which point we will turn around and return to the Mall. The event is open to partners, children, and families, in addition to the women of Muskoka. We firmly believe that change happens when we bring the entire community to bear on these issues and challenges. This is an opportunity for unity, solidarity, and community building
Violence against women is as much a local issue as it is a global one. Over 80% of women in Muskoka, who have experienced physical abuse, never report that crime to the Police. In 2014, the YWCA Muskoka published "A Statistical Economic and Social Profile of Muskoka" in which they reported that 129 women and 76 children were supported by women's shelters in Muskoka that year alone, the same shelters that were over capacity for 61 days. "One solution is to increase capacity but that only address the symptom," says Emson, "the better solution is to eliminate the need for shelters entirely".
"One of the guiding Unity Principles of the Women's March Movement is Inclusivity.", said Women's March Muskoka, Chapter Ambassador, Michelle Emson, "This single guiding principle is at the very core of our walk on Saturday. Yes, we are raising awareness of women's issues and the injustices of the past but, the sustainable solution is a team effort on the part of our community as a whole. We can all be a part of the solution to end violence against women."
On average, women in Muskoka earn 34.8% less than men and, that of the 2,030 single-parent families 1,645 were headed by women, surviving on as little as $20,000/year on average.
There are numerous groups within Muskoka that work specifically in supporting the women of our community including, Muskoka Women's Advocacy Group, Huntsville Women's Group, the YWCA, Muskoka Parry Sound Sexual Assault Services, and others, many of whom are participating in the march on Saturday.
On January 19th and 20th people around the world will flood the streets in protest of gender inequalities and gender-based violence. The third Anniversary March, known as #WomensWave, celebrates 2017's revolutionary Women's March which brought together 6 million marchers across the globe in support of women's rights and freedoms.
The 2018 impact report showcases the powerful effect Women's March Global has had on the planet. With an average 18 events a month, over one million in social reach, half a million petition signatures, hundreds of thousands of participants speaking up, plus 8 global campaigns Women's March Global is taking big steps towards positive change around the world.
"We have demonstrated that people coming together peacefully can change the world," said Women's March Global Interim Executive Director Uma Mishra-Newbury. "Women's March Global is not just a moment in time, it is a movement that is uniting people across borders, languages and countries and we are excited to see this movement continue to grow."
Marches are to be held in cities around the world including Lagos, Geneva, Kampala, Lusaka, Oahu, Saskatoon and San Carlos Nuevo. A live stream of the marches will be available on the Women's March Global Facebook page.