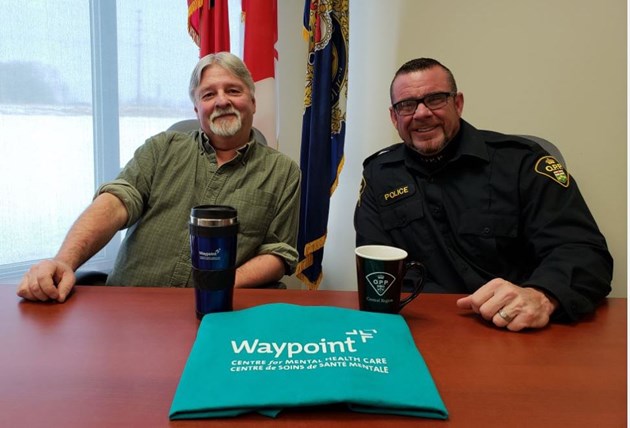 Responding to mental health calls is nothing new for Southern Georgian Bay OPP, but now they' have assistance from Waypoint Centre for Mental Health Care, utilizing a mental health nurse. Waypoint and the Southern Georgian Bay detachment of the Ontario Provincial Police (OPP) have partnered in a 6 month pilot project to respond to incidents involving a mental health component to help reduce hospitalization and police involvement.
Owen Hurst, a mental health nurse at Waypoint and Jeff Dorion a provincial constable with the OPP's Southern Georgian Bay detachment were selected when the Mental Health Response Unit (MHRU) was formed on October 1, 2018. Partnership combined with the experience, passion and commitment to the program has the unit brimming with good news for the community and clients who received the assistance they needed with their intervention.
"For the last 17 of my 33 years of nursing at Waypoint I have been working on community based teams," says Owen Hurst, Registered Nurse with Waypoint's Outpatient Mental Health Program. "Working with the police to better help clients with having the expertise of both an OPP officer and a mental health worker is amazing. We have had a tremendous amount of positive feedback and support for this pilot project from clients and their families."
"This has been an amazing opportunity for me to combine my 20 years of policing and 8 years as a psychiatric nursing assistant," says Jeff Dorion, Provincial Constable with the Southern Georgian Bay OPP detachment. "I have a passion for this position I am seeing a dramatic decrease in calls to police from those that the Unit has assisted."
"Providing this kind of support to people in the community experiencing a mental health crisis is invaluable," says Waypoint President and CEO Carol Lambie. "Having a mental health crisis is not a crime, and if we can provide treatment and care in the community and avoid a hospital stay, everybody wins."
"We are now at the midway point in this pilot project and the benefits of the MHRU have already been identified from a policing perspective", says S/Sgt Lee Jeannotte from the Southern Georgian Bay OPP. "The MHRU assists community members when they are in crisis and more importantly following a crisis; reducing the cyclical effect of police calls for service and hospital emergency department visits. The benefits to this program are very far reaching"
If a call occurs when the MHRU is not available, the responding officer may transfer the file to the MHRU to provide the follow-up and support. The hope is for this pilot to provide appropriate services to community members in crisis, support the Southern Georgian Bay OPP detachment with clinical skills and expertise, focus OPP resources where needed, reduce pressures on the local emergency department and work collaboratively to have a positive impact on those community members facing a mental health crisis.