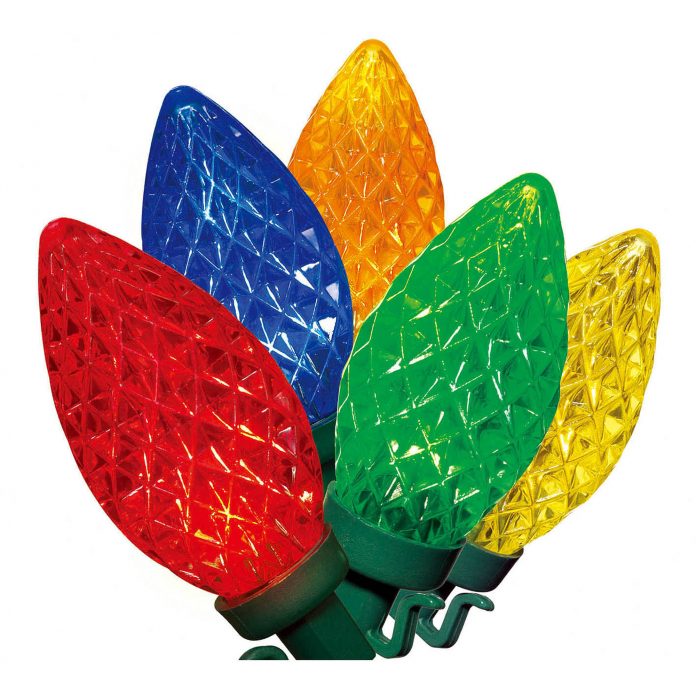 Multiple seasonal light sets sold at Walmart have been recalled. Please see the list below to see if any of the light sets you may have in your home are affected.
It has been determined that the seasonal lights may pose an overheating and fire hazard. Health Canada nor Wal-Mart Canada Corp. has received any reports of consumer incidents or injuries related to the use of these products
Approximately 487,041 units were sold at various Walmart stores throughout the country between August and November of 2015. Consumers can find the model number, CSA file number 241989, and the manufacturing date 06/2015 on the white tag affixed to the wire.
Consumers should immediately stop using the recalled seasonal lights and return them to a Walmart Canada retail store for a full refund.
The list of recalled lights is listed below:
Holiday Time 25 LED (C7) Light Set – Various Colours HPCAL25WCX/1S, HPCAL25WAX/1S, HPCAL25WX/1S 241989
Holiday Time 25 LED (C9) Light Set – Various Colours HPCAL25WCX/1S, HPCAL25WAX/1S, HPCAL25WX/1S 241989
Holiday Time 25 LED (QUICK CLIP) Light Set – Various Colours HPCAL25WCX/1S, HPCAL25WAX/1S 241989
Holiday Time 35 LED (C6) Light Set – Various Colours HPCAL35WAX/1S, HPCAL35WX/1S, HPCAL35WCX/1S 241989
Holiday Time 50 Mini Light Set Indoor/Outdoor HPCAL35WAX/1S, HPCAL35WCX/1S 241989
Holiday Time 50 Mini Light Set Indoor/Outdoor HPCA50WBX/1S 241989
Holiday Time 50 LED (M5) Light Set – Various Colours HPCAL50WAX/2S, HPCAL50WCX/2S 241989
Holiday Time 50 LED (G12) Light Set – Various Colours HPCAL50WAX/2S 241989
Holiday Time 500(2×250)CT Mini Light set HPCA250WBX/5S 241989
Holiday Time 70 LED (C6) Light Set – Various Colours HPCAL70WAX/2S, HPCAL70WCX/2S, HPCAL70WX/2S 241989
Holiday Time LED RIBBON Light Set – Various Colours HPCAL70WAX/2SN, HPCAL70WCX/2SN 241989
Holiday Time 80 LED (C9) Light Set – Various Colours HPCAL80WCX/2S, HPCAL80WAX/2S 241989
Holiday Time 100 LED M5 Light Set – Various Colours HPCAL100WAX/4S, HPCAL100WCX/2S 241989
Holiday Time 100 Mini Light Set HPCA100BX/2S 241989
Holiday Time 100 INC Light Set (Multi Colour and Clear) HPCA100WBX/2S 241989
Holiday Time 100 Outdoor Curtain Light Set – Various Colours HPCA100WBX/2SI 241989
Holiday Time 150 CT 7FT INC GARLAND Light Set (Multi Colour and Clear) HPCA150WBX/3S 241989
Holiday Time 150 CT INC ICICLE Light Set (Multi Colour and Clear) HPCA150WBX/3SI 241989
Holiday Time 200 Outdoor INC Light Set HPCA200WBX/4S 241989
Holiday Time 300 CT Outdoor INC Light Set (Multi Colour and Clear) HPCA150WBX/3S 241989
Holiday Time 140 LED 3F SUPER BRITE MEMORY LITE SET HPCA140WBX/3SC 241989
20 CT Indoor Light Set – Various Colours HPCA20WX/1S 241989
50 CT Outdoor Light Set – Various Colours HPCA50WBX/1S 241989
100 CT Light Set Indoor/Outdoor – Various Colours HPCA100WBX/2S 241989