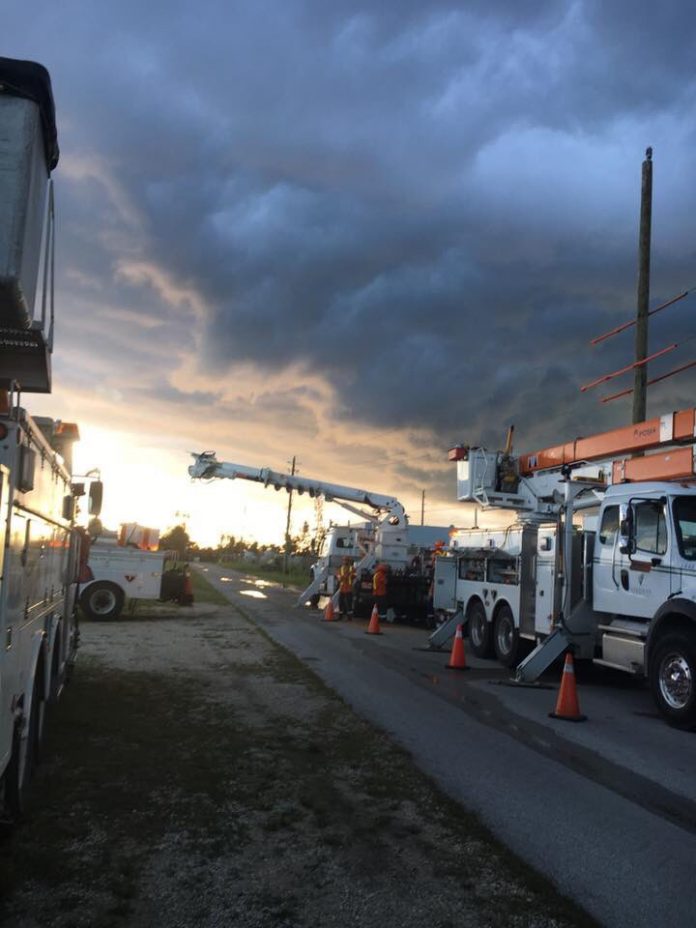 A crew of nine Veridian linepersons have returned home from Homestead, Florida where they assisted the local utility restore power in the aftermath of Hurricane Irma. The crew was dispatched on September 13th to assist with power restoration efforts after Hurricane Irma caused extensive flooding and damage to infrastructure. Nearly 4.5 million homes and businesses were without power following what was the most intense Atlantic hurricane to strike the U.S. since Hurricane Katrina in 2005.
Veridian's President and CEO Michael Angemeer praised the crew for their efforts, saying "I'm extremely proud of these individuals who came together, without hesitation, in a time of need to assist our neighbours to the south. They sacrificed time away from family and friends, worked long hours in extreme heat, and kept safety top-of-mind in some very hazardous conditions. The Veridian family has some very special people."
Peter Petriw, Veridian's Vice President of Engineering, recognized staff who here at home continued to provide the usual level of system reliability for customers. "While providing support to the City of Homestead, we did not jeopardize local service in the process and for this the staff that stayed behind need to be recognized as well."
Veridian recently joined the Canadian Mutual Assistance Group, whose members include the likes of BC Hydro, SaskPower, Toronto Hydro, Nova Scotia Power and Newfoundland Power. The group was formed to assist one another and share resources during emergencies such as ice storms, hurricanes and other disasters.
Veridian Connections, a wholly owned subsidiary of Veridian Corporation, is the fifth largest municipally owned electricity distributor in Ontario. The company is responsible for the safe, reliable delivery of electricity to more than 121,000 residential and business customers in the cities of Pickering and Belleville, the towns of Ajax, Port Hope and Gravenhurst, and the communities of Uxbridge, Bowmanville, Newcastle, Orono, Port Perry, Beaverton, Sunderland and Cannington.