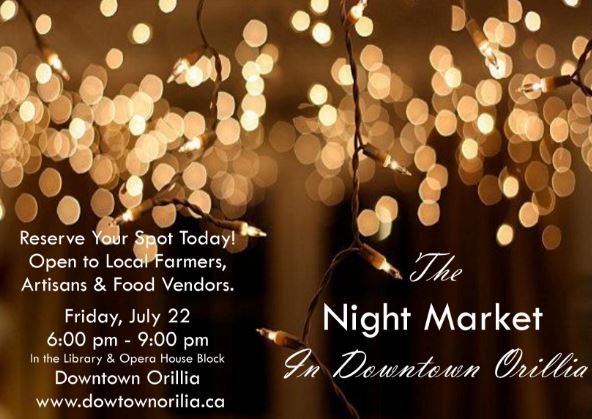 Downtown Orillia will be hosting a second Downtown Night Market on Friday, July 22 from 6:00pm to 9:00pm.
The first Night Market in May was a great success with a high turnout of artisans and customers. During the Night Market, Mississaga St. in front of the Library and Opera House is closed to traffic so that artists, artisans, farmers and antique collectors can set up their booths. If a large number of vendors apply the Night Market will spill west into the next block and Mississaga St. will be closed from West St. to Albert St.
Come join them at this fabulous event on the Friday night of Downtown's Summer Block Party in Downtown Orillia! Attendees will enjoy the ambiance, see the treetops glow and listen to the sound of great music on the street while being able to grab a treat from their favourite vendor or artisan, stock up on produce for the weekend, meet up with friends, enjoy the atmosphere and then make your way down the street into one of the 20 restaurants!
Booth fee is $35.00 + HST. This includes a 10 x 10 space on the street. If you require more space, please just let them know and they can accommodate.
If you have any questions don't hesitate to email Courtney at the Downtown Orillia Management Board at Courtney@downtownorillia.ca or call at 705-325-3261.