This is the first of a series of interviews with competitors for the upcoming professional wrestling event Mariposa Mayhem, presented by Smash Wrestling and Barrie Wrestling on April 20 at the St. Paul's Centre in Orillia.  For more information head to the Facebook Event page or to Smash Wrestling's website.
Name: Tyson Dux
Weight: 202 Pounds
Hometown: London, ON
Wrestling Accolades: Current Barrie Wrestling Heavyweight Champion, former Smash Wrestling Heavyweight Champion and Smash Wrestling Tag Team Champion. Winner of the 2018 Smash Wrestling Northern Tournament
What is Tyson Dux's signature style?  What should fans expect?
I don't stray far from the basics of professional wrestling, I feel as though it's a lost art. I'm all about professional wrestling as an old-school guy. It's a style that's a lost art from All-Japan Pro Wrestling. It's called "King's Road," it's based out of NWA (National Wrestling Alliance) back in the day. It's fundamentally strong, all about working holds and then strikes when holds weren't working. It's not just all strikes or just all holds, and there's a lot of story involved of working holds and working certain disciplines. That's what I pride myself on, I do "King's Road" style, because it's very much a lost art. Lost from Tully Blanchard, Kenta Kobashi, and with [Mitsuharu] Misawa being gone.
Is there a moment that stands out to you where you felt like you had made it, or where you realized this was what you wanted to do?
I never really think about it that way. I'm being constantly told by my wife and my peers that maybe at some point I should just reflect on my career a little bit, and see how far I've gone and what I've done, but I'm always pressing forward. So, I don't really want to reflect, because reflection on that kind of stuff means I'm at a standstill, and I always want to be pushing forward.
What goals do you have left for your career? 
I'm going to make every year my best year, even at 40, I can still move better, I can still work harder, I can still go longer than a lot of guys who are new guys that are younger guys, guys that are not half as broken as I am. The goal is to have every year be better – so 40, have a great year, 41 should be even better, 42…and just not stop. I don't plan on saying "Oh if I don't make WWE this year, I'm just going to give up" or if I don't make Impact in the next two years then this isn't me. This is my life, this is what I've done for over 20 years – I've spent over half my life being a professional wrestler. This is what I do, and I will continue to do so until they put me in the ground.
Is there one match from either Barrie Wrestling or Smash Wrestling that stands out to you as a favourite?
No, I couldn't [name one]. I know it sounds difficult, but it's all about reflection. I've only had a few matches in my career that I've really prided myself on. It's not also about just the match; it's the match but it's also the crowd involvement and the hype behind it, and my opponent, there's a lot to pro wrestling. As matches go, year in year out…right now, in 2019 it's only March and I'm excited about this year. Already this year I've switched my look, my attitude, and my workout routine again, so I feel really, really good going into this year. So I'm just going to say a year, I'm going to say 2019.
Do you have any past experience wrestling in Orillia?
My very first match in professional wrestling was done at the Orillia high school (ODCVI), back in 1997. My first match was in a mask as El Tigre, Jr. Against the "Boomerang" Brian Cannon (now known as "The Dingo"), my buddy from Australia – he lives in Japan now, makes a living wrestling there.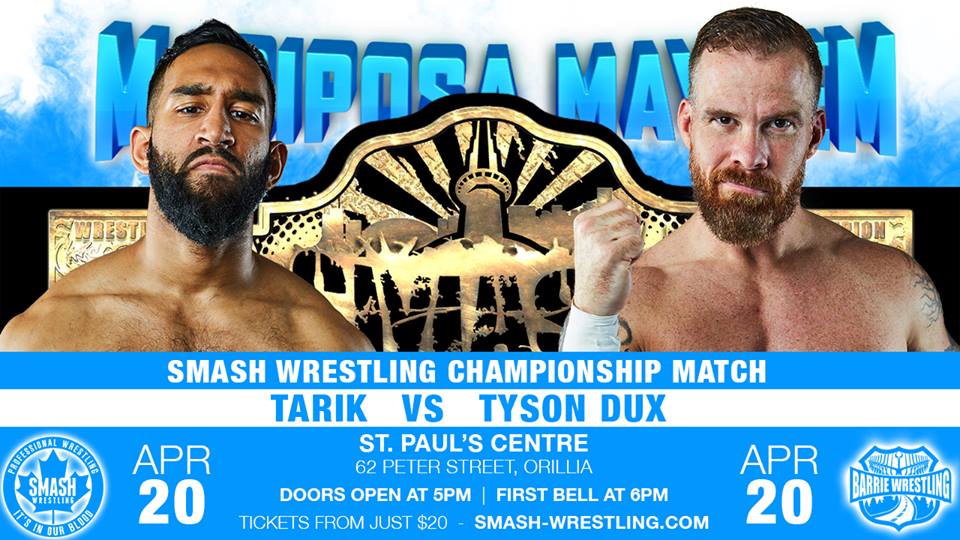 What matches of yours that are available online would you recommend for a fan to check out?
There's a really good one from Smash on Demand, it's a 25-minute match with me and Stu Grayson from Brock University. That was a lot of fun, I got to incorporate a lot of what I do now, a lot of holds and good, crisp spots. I think the 4-way match that Brent Banks, Tarik, myself and Sebastian Suave had is on YouTube, it's a really good one. And I do believe the 3-way tag match from London with Fight or Flight and Halal Beefcake is also available online. We went in there, and the start was a little rough, but by the end it was amazing.  [Author's note: Both of these matches are available through Smash Wrestling's YouTube page as part of their "Best of 2018" series]
You wrestled for Smash Wrestling in Iqaluit, Nunavut, is that the strangest or most unique place you've wrestled?
Iqaluit would seem like a weird place to wrestle, but it had a thriving community and it was a nice setup. They had a nice arena, they have the funding up there to make things look great. Other than that, there's been a couple of times I've been down in the Southern US, one was in an obscure opera house, with the ring is up on the stage. That's probably the oddest place I've wrestled, there were only a few fans there. It was in the bottom sector of Illinois, and it was just madness.
You own your own wrestling school (Wrestle Factory in London, Ontario) and you're seen as a leader in the locker room, how important is it to you to help lead the next generation?
I take a lot of pride in it, but that's a hard one, there's a lot of pressure involved in that as well. You want to make sure the kids are taught right, I don't want these kids coming back 20 years from now saying "You messed up my career, and you messed up my ideals of how to wrestle because of your indoctrination." But, there is a certain way that I want things done, and I want people to do it that way. When they start out, they have to have a certain kind of structure, and then when they get more experienced they can branch out and do what they want.
You had the chance to wrestle in WWE's Cruiserweight Classic Tournament and also to be a trainer at the WWE Performance Center, what did you learn from those experiences?
The Cruiserweight Classic was a great tournament, I got a lot of exposure and got to work with a lot of guys. What you learn from those is always the same – media, a lot of things you wouldn't know on independents where you're just working the crowd, not working the camera. Coaching, what I learned about it is that being a wrestler in 2019 might not be your ticket unless you stand out. So when you wrestle now, if you want to be a pro, don't just go with the norm. Don't be like me, don't just do the fundamentals and be one of those guys, you have to stand out. You have to be the crazy costumes and the crazy characters, because you need to make a name for yourself.
That's why I have them do the crazy things that I do, because they have to stand out. They're just going to pull football players, or models, or MMA guys, because they have a whole facility down there [the WWE Performance Center] where they have the most educated minds in professional wrestling to train then and make them who they want to be. So if they already have name value from another sport, it's way easier to just take them and groom them into whatever they want. My advice to all you young fellas out there is to get your name out there, make it loud, make it very clear and evident that you are here to stay.
Finally, on April 20th you will be battling a friend and fellow Pillar, Tarik, in a match for the Smash Wrestling Heavyweight Championship. What should the fans in Orillia expect from that match?
It will be hard-hitting and very aggressive. Mutual respect is a weird deal, makes you want to hit harder, give more, and take more.
You can catch Dux, Tarik, and all of the other stars of Smash Wrestling and Barrie Wrestling live on April 20th at the St. Paul's Centre (62 Peter St. N, Orillia), for more information head to the Facebook Event page or to Smash Wrestling's website.