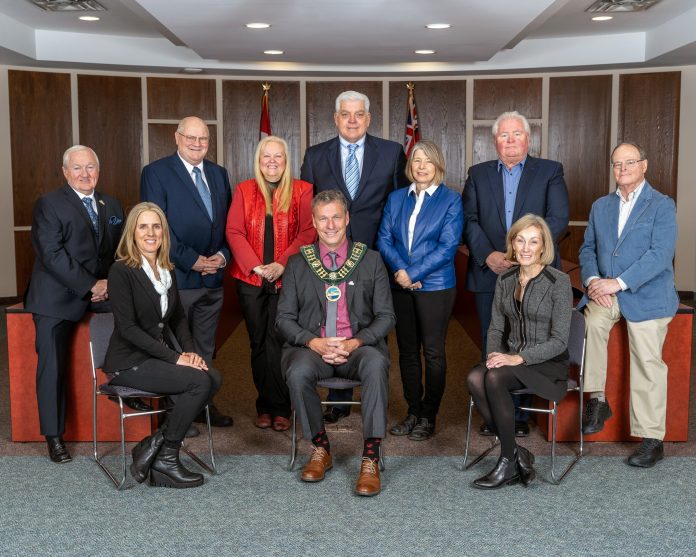 The newly elected Township of Muskoka Lakes Mayor and Council were sworn into office on Monday, December 3, 2018 during the Inaugural Council Meeting. The short meeting was held before family, friends, supporters and township staff before a social gathering.
The 2018-2022 Township of Muskoka Lakes council is comprised of newly elected Mayor and former District and Township Councillor Phil Harding, who is joining re-elected Councillors Ruth-Ellen Nishikawa, Ward A, Donelda Hayes, Ward A, and Allen Edwards, Ward B. Township Council will have six new councillors for the 4-year term. The new Councillors include Glenn Zavitz, Ward A, Susan Mazan, Ward B, Gordon Roberts, Ward B, Barb Bridgeman, Ward C, Peter Kelley, Ward C, and Frank Jaglowitz, Ward C. Ruth-Ellen Nishikawa, Allen Edwards, and Frank Jaglowitz will serve as District and Township Councillors for their respective wards.
Upon the presentation of Chain of Office by the Township Clerk, Mayor Phil Harding gave his Inaugural Address. Harding named District and Township Councillor Allen Edwards as Deputy Mayor and Councillor Donelda Hayes as Acting Deputy Mayor for the term.
Mayor Harding articulated in his address that the environment is the top priority. "It is very clear that the environment must be our number one priority. Our lakes and lake health are the foundation on which Muskoka has been built and must continue to be respected and protected," stated Harding. Harding finished his address by expressing how privileged he is to lead this amazing team. "Working with our engaged and valued tax payers as well as the newly elected council is truly an honour. One thing is for sure, Muskoka is in good hands and will be respected going forward."
The next scheduled meeting for Township Council is on Thursday, December 6, 2018.