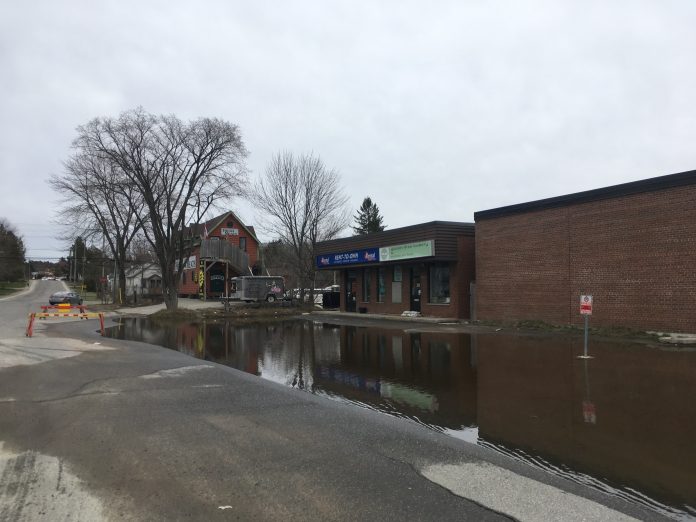 The Town of Huntsville is notifying residents that water levels and river flows continue to decrease as water makes its way through the system, while also encouraging residents to review flood recovery resources.
After the floodwaters dissipate, homeowners and communities are typically responsible for the cleanup, according to the town website, including the proper handling and disposal of emergency sandbags. A temporary sandbag drop-off is available daily at Madill Yard (169 Madill Church Road) to assist Huntsville residents with sandbag disposal. Residents should look for signage for the drop off location. The Rideau Valley Conservation Authority (RVCA) recommends wearing gloves and boots to protect yourself from scrapes and contaminants while dealing with sand that has been in contact with floodwaters containing bacteria, hazardous chemicals, sewage, septic waste and oil or fuel products the can cause health problems and environmental damage.
Sand from sandbags should never be used in sandboxes, playgrounds or other areas where it will be on the ground surface or directly in contact with people, according to the RVCA. It can only be used in construction projects. Sand should not be disposed of in a wetland, waterway, flood plain or other environmentally sensitive or protected area. Unused, empty sandbags can be saved for future use, recycled, or disposed of while clean, filled sandbags can be saved and reused at other flood sites for up to six months
Contact Huntsville Customer Service at 705-789-6421 ext. 0 if you are in need of volunteer assistance due to flooding or would like your name included as a volunteer. For other information flooding recovery resources such as debris and sandbag information, water tests, financial or other assistance, road closures and waterway restrictions, visit the town website.