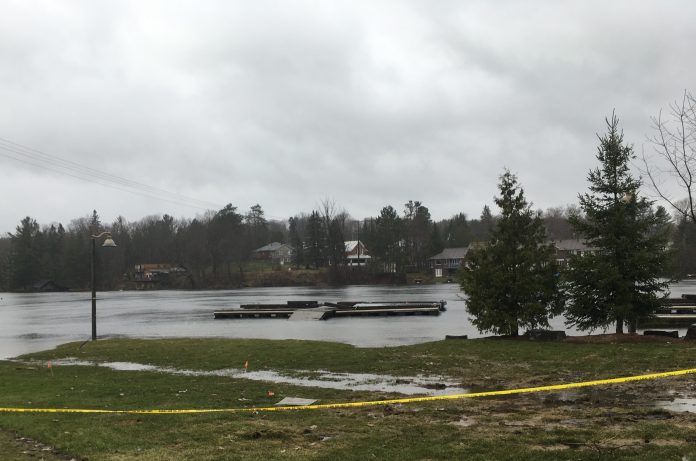 The Town of Huntsville lifted the State of Emergency on May 1 as river flows and lake water levels within the Huntsville and Port Sydney area steadily decrease.
Huntsville lakes have dropped 15 centimetres in the last 24 hours while Mary Lake has dropped 7 centimetres and river flows have declined. Officials are anticipating a steady decrease as water makes its way through the system and they will continue to monitor conditions. A temporary sandbag drop-off has been set up at Madill Yard (169 Madill Church Road, Huntsville) Monday to Friday from 8:30 a.m. to 4:30 p.m. to assist Huntsville residents with sandbag disposal. The town wants to remind residents that sandbags are considered contaminated waste and proper disposal procedure should be followed.
The town also reminded residents that Transport Canada issued an Interim Order on April 30, prohibiting navigation in certain bodies of water within the region of Muskoka to protect the safety of people and vessels, and to allow first responders do their jobs in flooding conditions. The waterway restrictions in Huntsville apply to the North Branch of the Muskoka River.
Emergency Services are currently securing large floating items from the river and lake systems throughout various locations in Huntsville. Residents are asked to call 705-789-6421 ext 0 if they notice large floating debris in waterways and are reminded not to retrieve objects or debris. The Town of Huntsville will notify residents when personal items are available and it is safe to retrieve them.
Steve Clark, minister of Municipal Affairs and Housing, has activated the Disaster Recovery Assistance for Ontarians Program for the Town of Huntsville. To see if you are eligible to apply for the program, visit the Ontario Ministry of Municipal Affairs and Housing website.
The Federal Government has also engaged an emergency local Services Canada team to assist residents or businesses affected by flooding with federal issues such as loss of documents or EI. As of April 30, the Service Canada team is located at the Canada Summit Centre in the Jan Glen Room Monday to Friday from 10 a.m. to 2 p.m. and can be contacted by phone at 705-789-4640.
Public Works crews continue to assess and repair flooded roads. The town wants to remind residents to stay clear of waterways and that it is illegal to drive flooded roads that are closed. Residents are advised that properties using well water in flooded areas should assume the water is not safe to drink.
For flooding resources, visit the Town of Huntsville website. Residents affected by flooding who require assistance are encouraged to call Town of Huntsville Customer Service at 705-789-6421 x0.