Suicide is preventable. Many factors and circumstances can contribute to someone's decision to end his or her life.
Approximately 11 people will end their lives by suicide today in Canada. Awareness is essential to changing this behaviour.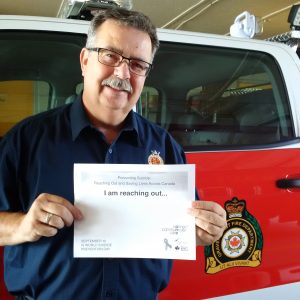 Be one who wears a ribbon.
Be one who reaches out.
Be one who speaks up.
Be one who listens.
Be one who makes a difference.
Be one
One voice. One voice can make a difference. If you are struggling, your voice can make the difference in your life. Speak up and let people you trust and care know that you are struggling. Build a support team of caring individuals and professionals, just like we do when we are struggling with physical health. Think of them as your team. If you are on the supporting team, you can use your voice to advocate for your loved one and help them through difficult times. We can all use our voices to look out for others who may be struggling and encourage them to share their story in their own way at their own pace. Those who have been affected by suicide, both suicide loss and suicide attempt survivors have much to teach us and are a necessary to advance suicide prevention.
One world. On September 10th, join with others around the world who are working towards the common goal of preventing suicide. Check in on someone you may be concerned about, and start a caring conversation with them, asking them how they're doing. Investigate ways of connecting with others who are trying to prevent suicide in your community, your country, or internationally. Show your support by taking part in the International Association for Suicide Prevention's Cycle Around the Globe.