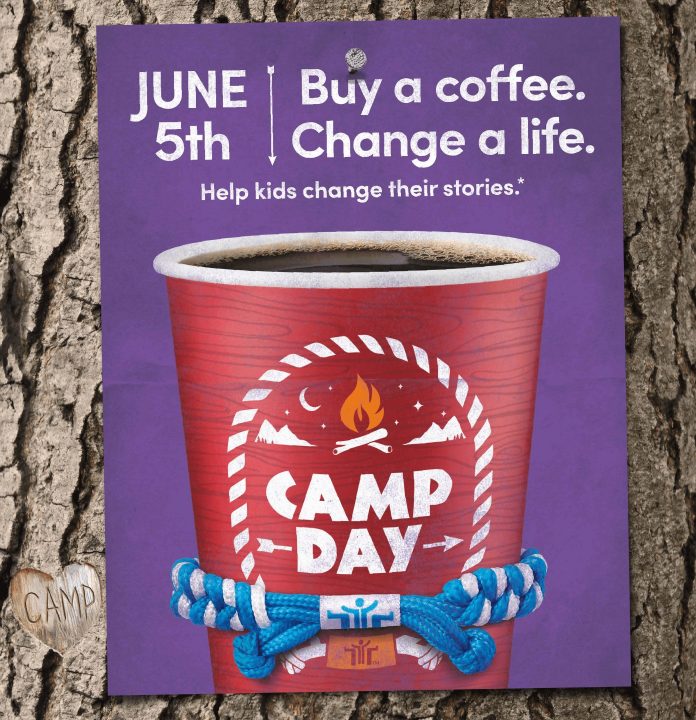 Look out for Muskoka411 Party Patrol on location at the 150 Talisman Road Tim Hortons in Gravenhurst on June 5!
It's almost time for this year's Tim Hortons Camp Day on June 5, where owners of participating locations donate 100 per cent of the proceeds from every brewed coffee purchased in Canada to Tim Hortons Foundation Camps to help make a difference in the lives of young people from low income families.
Tim Hortons Camp Day is an annual campaign for Tims Camps, which support youth between the ages of 12 to 16 that come from low income homes. Young people get the chance to learn skills like leadership, resilience and responsibility through a multi-year, camp-based program, which aims to "empower them to believe in their own potential and change their stories for the better," according a statement from the company. Tim Hortons Foundation Camps are free for the attendees and their families. The foundation has seven camps in the US and Canada that offer year-round, summer and school programs. Tim Hortons Foundation Camps invest in youth in every community Tim Hortons serves and are entirely supported by restaurant owners, guests, and sponsors, according to the release.
"Camp Day is as much a part of Tim Hortons as our Double Double is," said Tim Hortons President Alex Macedo. "In 2018, our guests helped us donate more than $13.1 million on Camp Day and this year I hope we can exceed this to help even more youth change their stories."
Guests can also support Tim Hortons Foundation Camps by donating $2 to receive a limited-edition red, blue, green or orange Camp Day bracelet from May 27 to June 5. For those looking to donate year-round, guests can round up their order total to the nearest dollar at any Tims location all year long or they can make a one-time or recurring donation online.
"Over the last 45 years we have helped give 275,000 youth a chance to change their future – but we can't do this alone," said Dave Newnham, president and executive director of Tim Hortons Foundation Camps. "It's the generosity of Tim Hortons Restaurant Owners, guests and supporters year-round – but most importantly on Camp Day – that allow us to continue to provide more kids with lifelong benefits of this very specialized Tim Hortons camp experience."
Click here to learn more about Tim Horton's Camp Day. Watch the video below to hear from Shelagh Cole about her experience at Tim Hortons Foundation Camps.