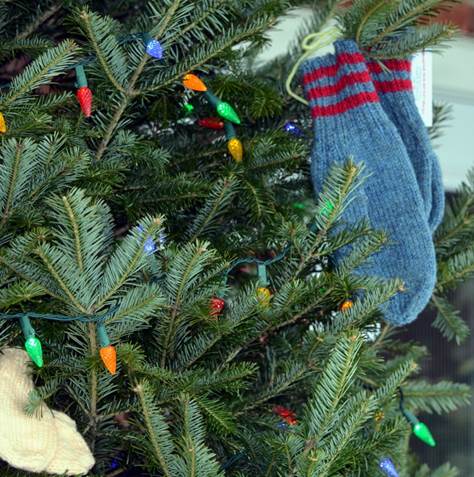 The Gravenhurst Public Library is once again encouraging the community to help decorate their 'Mitten Tree' to help support the local community during the cold winter months. Donations will be accepted at the Library from November 19th to December 14th, at the Library. 
Come decorate the tree with new handmade or store bought mittens, hats, scarves, socks and gloves during regular Library operating hours.  All decorations will be donated to the Manna Food Bank and the Women's Resource Centre, Gravenhurst.  "This is also a great opportunity to bring the crafting community together for a common charitable goal that everyone can participate in," said Julia Reinhart, Chief Librarian.
The idea of the 'Mitten Tree' is inspired by the book 'In The Mitten Tree' by Candace Christiansen, where Sarah sees a boy waiting for a bus on a snowy winter's day and notices he doesn't have any mittens. Worried he can't join in the winter fun; Sarah decides to knit a pair of mittens for the boy and leaves these on the tree next to the bus stop. Each day thereafter, children discover new mittens until one day Sarah fills the tree with what she has knitted. "That's what we hope to do here at the Gravenhurst Public Library and we are calling on people in the community to help us make it happen," said Reinhart.
For more information about donating to the Mitten Tree, please drop by the Library or call 705-687-3382