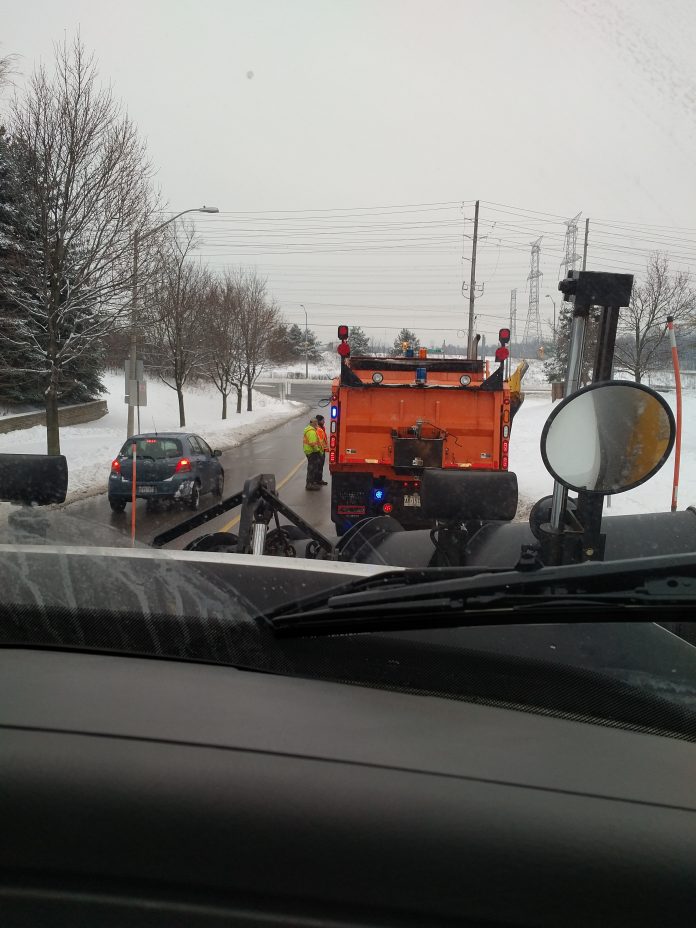 With the recent snowfall in many regions over the past few days, the Muskoka411 team was given a special opportunity to go for a snow plow ride-along with Robert Sist with York Region works staff.  Carefully stepping over the grease, as to not ruin our clothes, off the large plow blade we hopped into the passenger side of the plow and the ride-along commenced.  Our journey started at the Region's Southwest Yard located
at 2850 Rutherford Road. It was noted that the majority of drivers moved over for the plow allowing Robert enough space to get the snow pushed back, clearing the roadway. Plow crews are regularly faced with the tough challenge of navigating anything that has the potential to be a hazard in their way such as parked vehicles, pedestrians, bus shelters signs and throwing snow over the guard rail onto vehicles below.
Muskoka411 staff were quite impressed as Robert pushed pack the snow on Highway 7 to ensure every drivers safety.  Robert manoeuvered the snow on the shoulders and ramps to perfection and didn't allow a hazard to  impede the job. During his route, Robert monitors road signs that are in need of replacement or are damaged, as it's one of his responsibilities with York Region.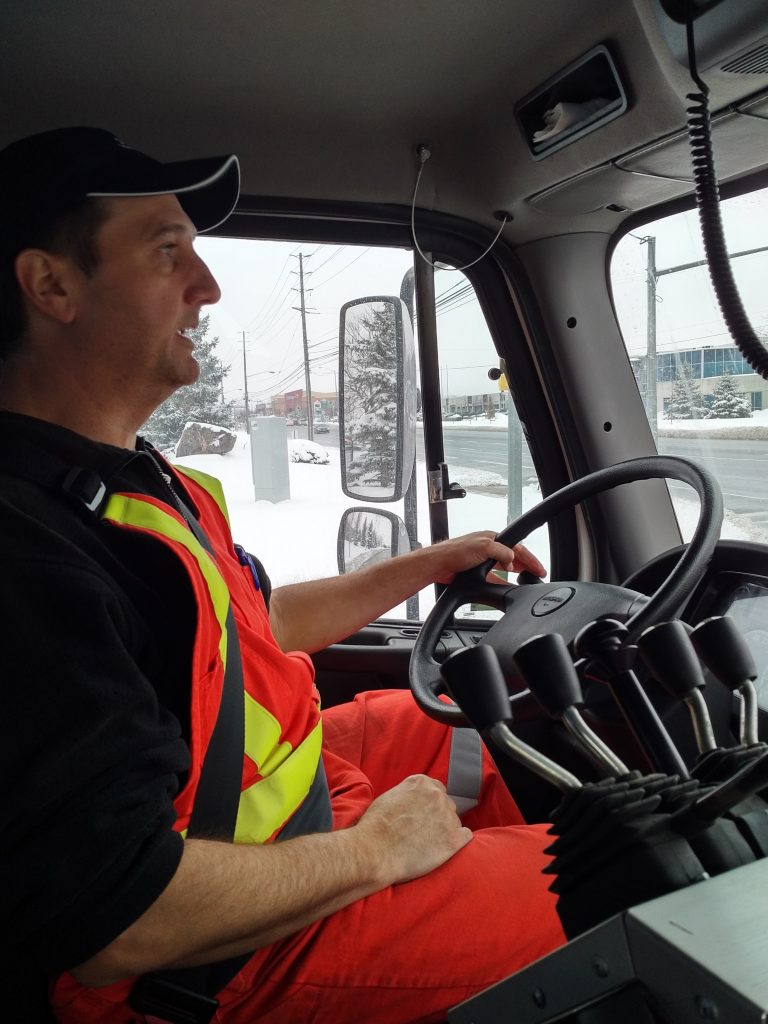 Robert Sist who has been on the job with York Region for 8 years and in the industry for 15 years says "I enjoy my job because it allows me to make a difference in my community:  When asked what drivers can do to help make life easy for plow operators Robert said "The best place for drivers is behind us and never interfere with a convoy of plow".
We learned a lot and that process while it may frustrate drivers, it is all about making our roadways safe. So, the next time you see a Snow Plow operator thank them, it will make their day.
Quick Facts
• From October to April York Region monitors the roads 24 hours a day, 7 days a week.
• Crews work 13 hour shifts and are always on call.
• There are about 90 plows with 30 belonging to York Region with the rest belonging to a contractor
• York Region has 4000 km of lanes to salt, sand and plow which takes about 90 minutes for a complete round of salt and salt.
• York Region has obtained thirteen new plows in the last three years.

Tips
• Be patient and keep a safe distance behind working plows. These units  often travel slowly because they are removing snow, spreading salt or sand, and applying liquid anti-ice to roadways.
• Never pass a plow. These vehicles are wider than average ones with  large blades that extend a metre or more ahead and into the neighbouring  lane.
• Don't drive beside plows. You risk a collision, as plows sometimes shift sideways when they are plowing packed snow or drifts.
• Move aside. Plows often work along the centre line of a roadway to  remove snow. If you are approaching one from the opposite direction,  shift right if conditions allow, ensuring there is enough space for them to pass you safely.
• Beware of reduced visibility. Even at reduced plowing speeds, a light powdery snow forms a cloud in the wake of a snow plow that severely  restricts a trailing driver's visibility, making passing extremely dangerous.
• Do not pass between snow plows in tandem. On multi-lane roads, snow  plows often work in tandem. Passing or weaving between these plows is  dangerous. Please stay well back of such groups.