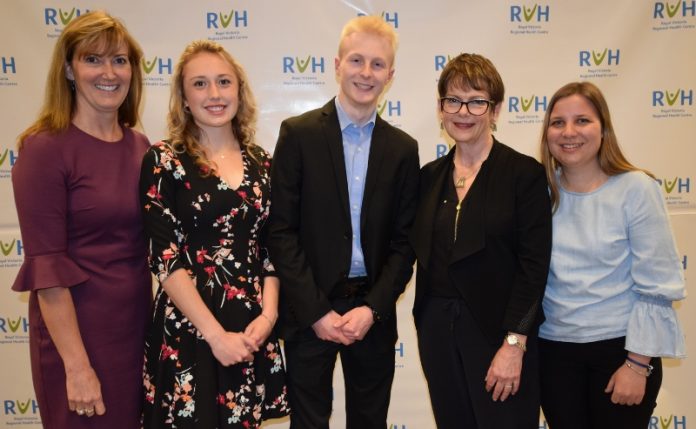 Royal Victoria Regional Health Centre (RVH) recognized excellence among their student volunteers and co-operative education participants in a celebration that honoured 13 students.
Twelve students received an Outstanding Service Award (see full list below) and three of those students were chosen by a panel of judges to receive the My Care Student Award of Excellence, the highest student honour at RVH. Natalee Schors from Elmvale District High School won a My Care Student Award of Excellence in the co-operative education category. Gavin Hughes of Eastview Secondary School took home the Award of Excellence in the high school volunteer category while Nicole Barcicki from Lakehead University won for the post-secondary category.
"At RVH we make it a priority to provide educational and research opportunities for students from high school age to university master's degree level, nursing students and medical residents," said Janice Skot, RVH president and CEO. "We're so committed to this that we opened our very own Centre for Education and Research last year as a place for students and staff to learn and practice together."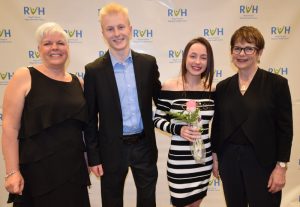 Lise McCourt, president of the RVH Auxiliary, also presented two students with $1,000 scholarships. The first recipient Faith Bolduc, a student at Ecole secondaire Romeo-Dallaire, will be attending the University of Ottawa's Biomedical Science Program in the fall. The second recipient Gavin Hughes has been accepted to the Bachelor of Health Sciences (Honours) Program at Queen's University.
"We were thrilled to honour all the students and especially thrilled for Gavin Hughes who took home three awards: Outstanding Service Award; MY CARE Student Award of Excellence and the RVH Auxiliary Scholarship Award," Skot said. "Gavin's grandfather Mayor Harry Hughes, Township of Oro-Medonte, has a long history with RVH. Harry spent 13 years as a member of the RVH Board of Directors, is currently on the RVH Foundation Board and a great friend to RVH. It was so nice to see that his community-minded spirit has clearly been passed down to his grandson Gavin."
The winners of the 2019 Outstanding Service Awards were:
Natalee Schors, Elmvale District High School

Maya Alvarado, Eastview Secondary School

Samantha Paterson, Bear Creek Secondary School

Antonio Nigro, St. Peter's Catholic Secondary School

Angela Luan, Innisdale Secondary School

Gavin Hughes, Eastview Secondary School

Lauren Hopper, Innisdale Secondary School

Ryan Khosrovaneh, Eastview Secondary School

Melissa Maeck-Rolston, Eastview Secondary School

Charlotte Desrochers, Georgian College

Madelyn Porter-McGrath, Georgian College

Nicole Barcicki, Lakehead University