The success of the recent production of Mamma Mia! produced by Muskoka OnStage has allowed the Rotary Club of Bracebridge to donate $10,000 from its share of the show's profit to help victims of the recent flooding, according to a joint statement from the Rotary Club and Huntsville Festival of the Arts on May 13.  
The funds will be given to the Town of Bracebridge and then distributed locally through the Red Cross under supervision of a community-based committee, according to the statement. The Mamma Mia! production involved almost 100 community members from across Muskoka and East Parry Sound and was a collaboration between the Rotary Clubs of Bracebridge and Huntsville, along with the Huntsville Festival of the Arts. The production sold out all 14 shows in Bracebridge at the Rene Caisse Theatre and in Huntsville at the Algonquin Theatre with nearly 5,000 audience members in attendance.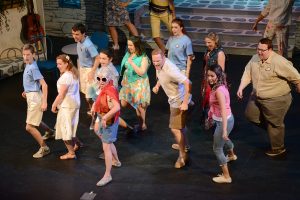 "Not only will these funds create an impact and honour the efforts of the many volunteers who worked on the show, but this process will also ensure that the funds are distributed to households in Bracebridge impacted by the flood," said the statement. "The club will soon allocate the balance of the profit to other uses that will directly benefit the community."
The other half of the profits will be divided between the Huntsville Festival of the Arts and Rotary Club of Huntsville. Huntsville Festival of the Arts will put their share of the profits into arts education projects, including their Artists in the Schools Programming and free community events like Nuit Blanche North and Music at Noon. The Rotary Club of Huntsville will be using some of the funds to install Buddy Benches where children can find a friend to play or just talk as a continuation of the playground project at Huntsville Public School.
"None of this would have been possible without the volunteers from all over Muskoka and East Parry Sound whose hundreds of hours of effort ensured the financial success of the show," said the statement. "Organizers hope that all these volunteers, as well as the thousands of audience members who attended, will be glad to know the worthy uses to which the HFA and the Rotary Clubs of Bracebridge and Huntsville are putting the funds that Mamma Mia! generated."
Organizers said they look forward to continuing their work together in the future. Muskoka OnStage won't be producing a musical next year, but organizers said they will continue to collaborate and look for opportunities for future productions. They will also continue to produce an annual musical in their respective communities next year with details coming soon.