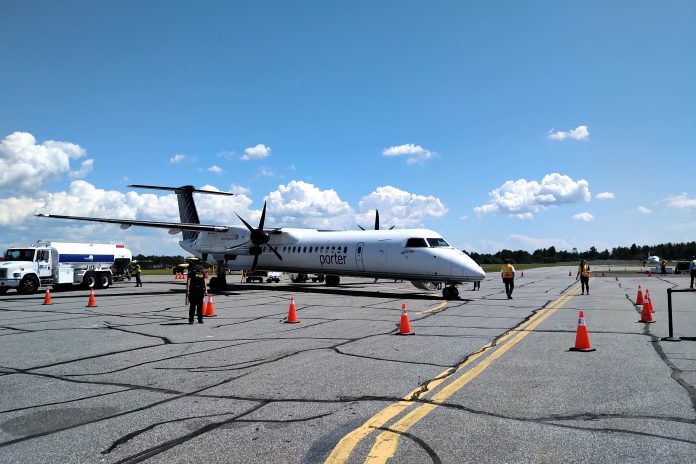 Porter Airlines inaugural flight to Muskoka was a success, touching down at the Muskoka Airport on the afternoon of June 27 to a crowd of local officials and residents.
Muskoka411 joined Lisa MacLeod, minister of Tourism, Culture and Sport, and other officials for the airline's first flight from Billy Bishop Toronto City Airport to Muskoka Airport. Porter Airlines sent the full plane to Muskoka for the inaugural flight following a test flight performed on June 25. Porter's seasonal Muskoka flights will operate twice weekly until Sept. 3. Flights will be scheduled for Thursdays and Mondays, except when Monday is a holiday, which will shift the service to the following Tuesday.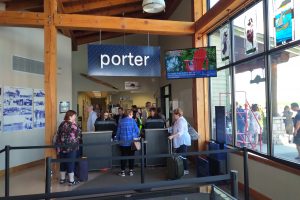 "Porter has received strong interest in its seasonal Muskoka flights since we announced service in the spring," said Robert Deluce, executive chairman of Porter Airlines. "Travellers value convenience and we are dedicated to making Muskoka more accessible, whether you're taking the short flight from Toronto or connecting from one of our other destinations."
The 10-week service to Muskoka offers flight times of about 20 minutes. Travellers have the option to take a shuttle offered through the regional tourism organization Explorers' Edge or rent a car at the airport.
"The District and the Muskoka Airport Board are very excited for the arrival of scheduled service from Porter – making it easier for visitors and our residents to get to and from Muskoka and beyond this summer," said District of Muskoka Chair John Klinck. "We look forward to working with our partners at Porter and RTO 12 to make this new service an experience as unforgettable as Muskoka is."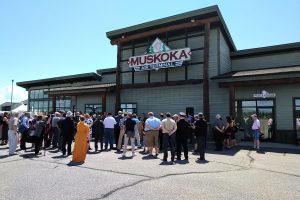 Explorers' Edge also launched its seasonal shuttle bus service to help Porter passengers get from the Muskoka Airport to their accommodations across the region. The organization is offering a traveller incentive for those booking a flight and accommodation between June 27 and Sept. 3. Visitors who book a Porter flight to Muskoka as well as a minimum of two nights at participating accommodations before August 28 can register to get $100 in cash vouchers to redeem at participating attractions, restaurants and shops.
Bus routes go as far north as South River, as far west as Port Severn and Parry Sound, and east to Whitney, Ontario. Buses will stop at various attractions and accommodations along the way, such as the Muskoka Brewery, Highlander Brew Co. and Trestle Brewing Company. The cost to ride the shuttle is $10 per person one way.
"Explorers' Edge is excited to have partnered with Porter Airlines to introduce seasonal service to the Muskoka Airport," said James Murphy, executive director of Explorers' Edge. "Muskoka and Algonquin Park are among the nation's most popular vacation destinations, and this service will allow domestic and international tourists to have much easier access to a spectacular holiday here. We are very pleased to welcome the world via Porter's extensive network."
Flights can be booked on Porter's website and through travel agents. For a complete schedule and booking details, visit the Porter Airlines website. To learn more about the traveller incentive offered through Explorers' Edge, click here.
@GravenhurstFIRE and @bracebridgefire providing the traditional fire services "welcome" to @porterairlines on their inaugural passenger service flight to #Muskoka.

Congrats all!@DiscoverMuskoka @DistrictMuskoka @Gateway2Muskoka pic.twitter.com/oLvMBx07r2

— GravenhurstFIRE (@GravenhurstFIRE) June 27, 2019