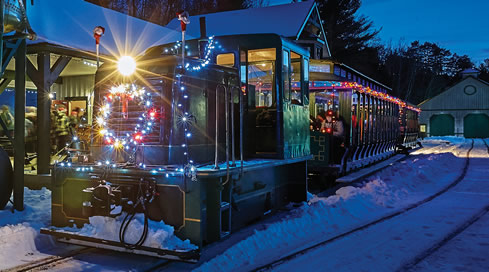 The Town of Huntsville, Muskoka Heritage Place, staff, volunteers, and even Santa Claus would like to thank everyone who attended the attraction in 2017.
"Attendance at The Portage Flyer Christmas Train on December 23 topped 1,000 people for the first time ever," said Muskoka Heritage Place Manager Ron Gostlin, "This is a 30% increase over last year, and pushed our overall paid attendance for 2017 up to 14,111 people, the highest it has been since 2004."
Gostlin credits cold and wet summer weather and increased use of digital marketing for Muskoka Heritage Place's 2017 results. "There is a direct correlation between poor weather and attendance at our attraction," said Gostlin, "We provide something for people to do which is interesting, family-friendly, and not available anywhere else in Muskoka."
"We also enjoyed excellent support from our partners in tourism like Explorer's Edge, Muskoka Tourism and the Chamber of Commerce," noted Gostlin, "along with increased use of social media reminding people of fun reasons to visit us".
Muskoka Heritage's Place's attendance results for 2017 positively impact the bottom line. Although not yet audited, a presentation to General Committee of Council on December 19, 2017 projected Muskoka Heritage Place's net cost to the taxpayer at a savings of over $58,000.
"We provide authentic and educational, fun and interesting experiences while presenting and protecting local heritage," says Gostlin, "and while it's not just about money, the higher our attendance, the lower the cost to taxpayers. We are confident that the strategic plan currently being drafted by staff, based on the LORD consultant's report, will take the good trajectory we are on and continue to improve both the experience and the sustainability of Muskoka Heritage Place long into the future."