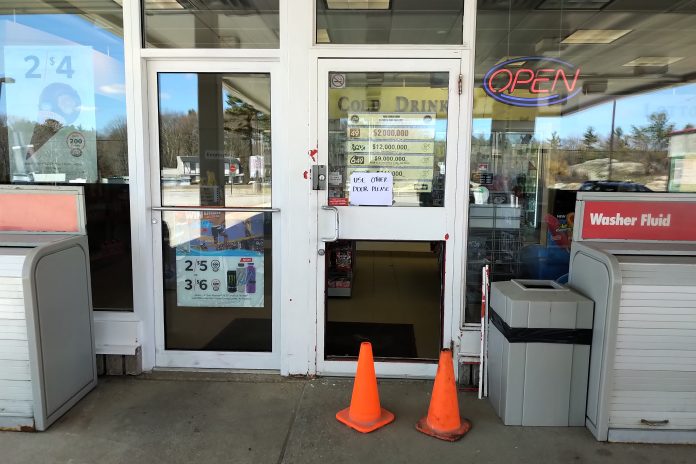 Police are investigating an attempted ATM theft that occurred at a Highway 11 Petro Canada around the same time a District of Muskoka truck was taken from a nearby landfill site in Gravenhurst, according to reports from landfill staff, residents and the OPP.
Unknown suspects gained entry into the Beiers Road Landfill Site in Gravenhurst by removing a portion of the metal gate, according to OPP. The suspects then broke into a trailer and obtained keys to a dark blue 2018 Ford F-250 that had Ontario Licence AW90678 along with District of Muskoka decals on each door and a yellow strobe light on the roof. The OPP are requesting the public's assistance in locating the vehicle. If you believe you have located it, do not approach the vehicle and contact the OPP at 1-888-810-1122. At a nearby Petro Canada on southbound Highway 11, reports say suspects broke the door in an attempt to steal the ATM, which was not there due to a previous theft. Several other ATM thefts have been reported recently across Ontario.
OPP Sergeant Jason Folz confirmed that police are investigating both break and enter incidents that occurred around 3:30 a.m. on May 5, but he said that police are unable to confirm whether the incidents are connected.
More information to come as it becomes available.
Anyone with information regarding the incident should contact the Ontario Provincial Police at 1-888-310-1122 or your nearest police authority. Should you wish to remain anonymous, you may call Crime Stoppers at 1-800-222-8477 (TIPS) or submit information online at www.crimestopperssdm.com.