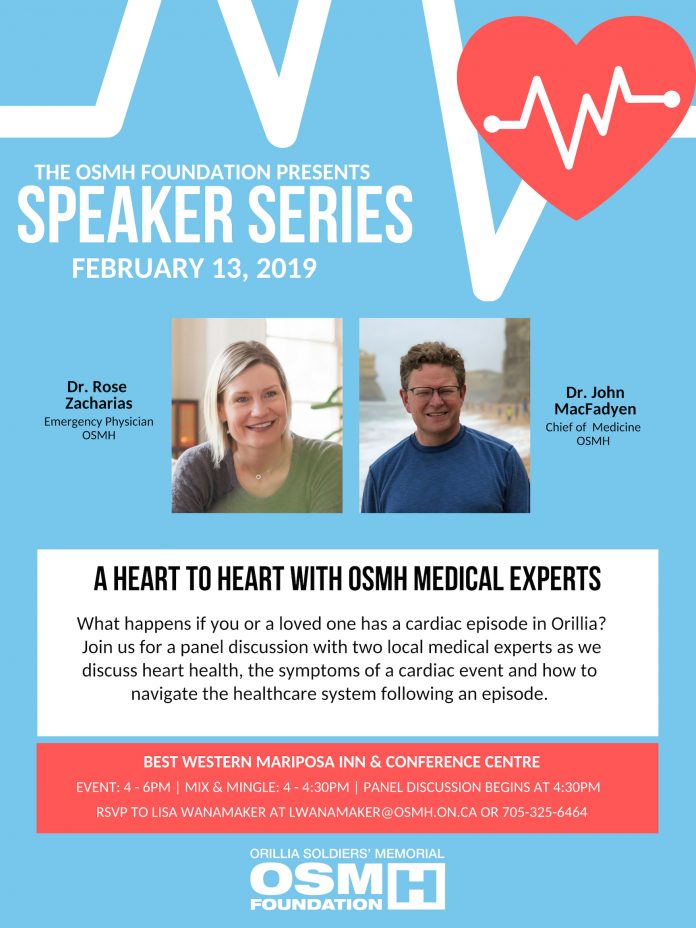 Two OSMH physicians are coming together this February to give a free talk on heart health in the Orillia area. The Speaker Series, hosted by the Orillia Soldiers' Memorial Hospital Foundation, will feature Emergency Physician Dr. Rose Zacharias and Chief of Medicine Dr. John MacFadyen, who will cover the symptoms of a cardiac episode, and how to navigate the healthcare system if you or your loved one experiences a cardiac event.
"This will be our third Speaker Series event, and we're excited to give the public the opportunity to hear firsthand from some of Soldiers' distinguished medical experts," said Mark Riczu, Executive Director, OSMH Foundation. "Heart health touches everyone – and it's a topic we could all benefit from learning a little more about."
The Speaker Series event will take place at the Best Western PLUS Mariposa Inn and Conference Centre in Orillia on February 13th from 4:00 – 6:00pm, with an opportunity for questions following the panel discussion.
"Many view heart attacks as an older man's disease. The reality is – women are five times more likely to pass away from heart disease than breast cancer," said Dr. Rose Zacharias, Emergency Physician, OSMH. "We're looking forward to educating the public on some of these misconceptions – and having a greater discussion about what to do when someone experiences a cardiac episode."
Space for the Speaker Series event is limited. Please RSVP to Lisa Wanamaker at lwanamaker@osmh.on.ca or 705-325-6464.