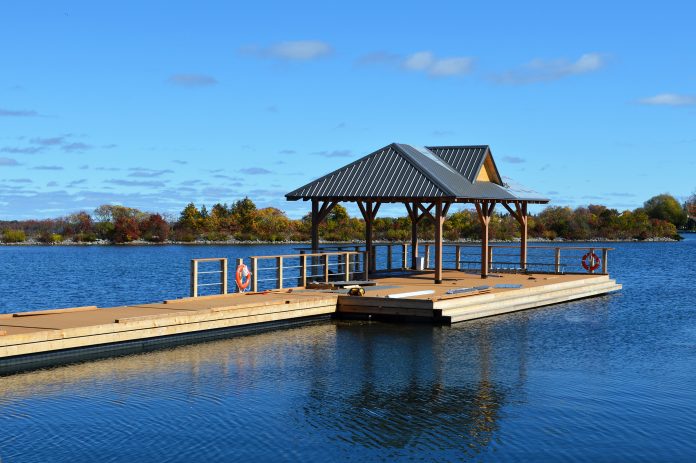 Orillia's latest waterfront feature at Centennial Park is catching some attention.
The new fishing pier, which was assembled at the Port of Orillia over the last few weeks, is now floating at its permanent location at the bottom of Mississaga Street East. The location was selected to provide an optimum area for fishing and more dock space for canoe and kayak access.
The existing fishing pier, located south of the Port of Orillia building, close to the marina, was scheduled for replacement due to its age and condition. The replacement features launching opportunities for canoes and kayaks and a pavilion for shade and shelter.
"The fishing pier is a popular destination and offers residents and visitors access to the water for recreational fishing at no cost," said Marcia Russell, Manager of Parks and Facilities. "The addition of a post and beam shade structure and space for canoe and kayak launching adds new amenities in Orillia that will be well used to enjoy the beautiful waterfront."
While the new pier looks complete, finishing touches including electrical work and the installation of the canoe/kayak launch still needs to be done and are scheduled to take place in the coming weeks pending coordination with the contractor. During this work, there may be limited access to the new pier. The old pier will remain in place for use during this time.
The pier was designed and built by Kropf Industrial Inc. and Cedarland Homes Ltd. The new pier installation completes a series of improvements made to the downtown waterfront area in 2018 and 2019, including the boardwalk replacement and trail repairs. The project budget of the new fishing pier was $324,863.
The City of Orillia is a city of 31,000 people in the heart of Ontario's Lake Country on the shores of Lake Couchiching and Lake Simcoe. Visit our website at orillia.ca.