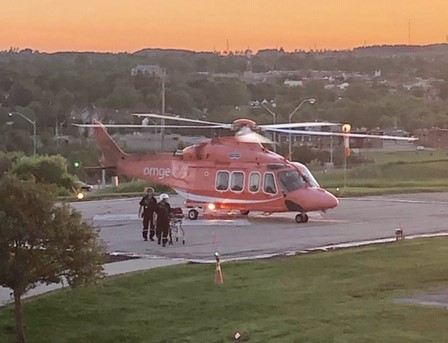 More to this story we first told you about.
On Saturday June 22, 2019 just after 9 p.m. Bracebridge OPP, Muskoka Paramedic Services and Bracebridge Fire Department responded to a vehicle that struck a tree on Manitoba Street in Bracebridge.
As a result of the collision, a 49-year old Caledon man had to be transported by air ambulance to a Toronto hospital. The driver survived the crash, but suffered serious injuries. According to police, the vehicle he was in left the roadway and crashed into a tree. The investigation continues and OPP say charges could still be pending.
With Files from Matt Sitler / Country 102
The OPP have released the following press release:
On Saturday June 22, 2019 at 9:00 p.m. Bracebridge Ontario Provincial Police (OPP), Muskoka EMS and Bracebridge Fire were called to the scene of a single vehicle collision on Manitoba Street in Bracebridge, ON where witnesses described that the involved vehicle had crashed into a tree and the driver was trapped. Bracebridge Firefighters were able to extricate the 49 year-old Caledon man and EMS transported him to a local hospital where he was soon airlifted to a Toronto hospital with serious, life altering injuries.
Manitoba Street in that area was closed for several hours as the OPP Technical Collision Investigators (TCI) conducted an investigation into the factors of the crash.
The investigation is ongoing and anyone with information is asked to call Bracebridge OPP at 1-888-310-1122. You may also call Crime Stoppers at 1-800-222-8477 or submit your information online at www.crimestopperssdm.com. Crime Stoppers does not subscribe to call display and you will remain anonymous. Being anonymous, you will not testify in court and your information may lead to a cash reward of up to $2,000