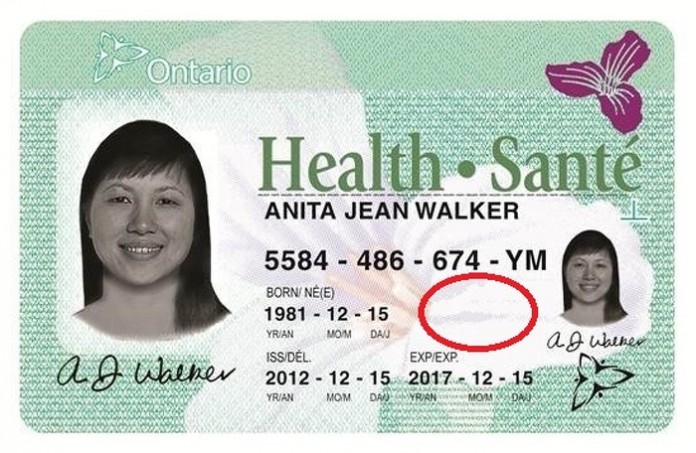 The Ontario government is changing the way it displays sex and gender information on health cards and driver's licences to ensure the fair, ethical and equitable treatment of people with trans and non-binary gender identity.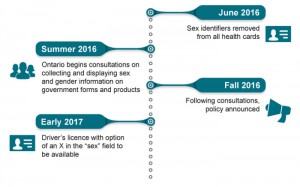 From June 13 onward, Ontario health cards no longer display information about a person's sex on the face of the card. This change will not affect the validity of the card, and cards will continue to function in the same way.
Starting in early 2017, driver's licence holders will be given the option to display an 'X' on their card as their gender identifier if they do not exclusively identify as male or female. Driver's licences that display an 'X' instead of an 'M' or an 'F', will also be considered valid and can be used in the same way as previous cards.
This summer, Ontario will also launch public and stakeholder consultations to help develop policy on how ministries collect, use, retain and display sex and gender information on public-facing government forms and products. Ontarians can sign up to be notified when consultations open, as well as when the 'X' gender identifier option becomes available for driver's licences, by visiting Ontario.ca/myID.
Quick Facts
Customers who want a health card without a sex identifier before their regular renewal date can now get one by calling 1-866-532-3161, TTY 1-800-387-5559 or at any ServiceOntario centre.
There is no fee to get a new health card.
When available, there will not be a fee to get a driver's licence with an 'X'.
Some other countries, including Australia, New Zealand and Nepal, use an 'X' instead of an 'M' or 'F' on government records when gender is not specified. It is a standard accepted by the International Civil Aviation Organization, which promotes consistency among travel documents.
"The purpose of health cards is to show that the card holder is eligible for public health care. A person's sex is not relevant. Ensuring that all people in Ontario feel comfortable and safe is especially important in health care settings, and removing sex designation from health cards is a step towards achieving that." – Dr. Eric Hoskins, Minister of Health and Long Term Care