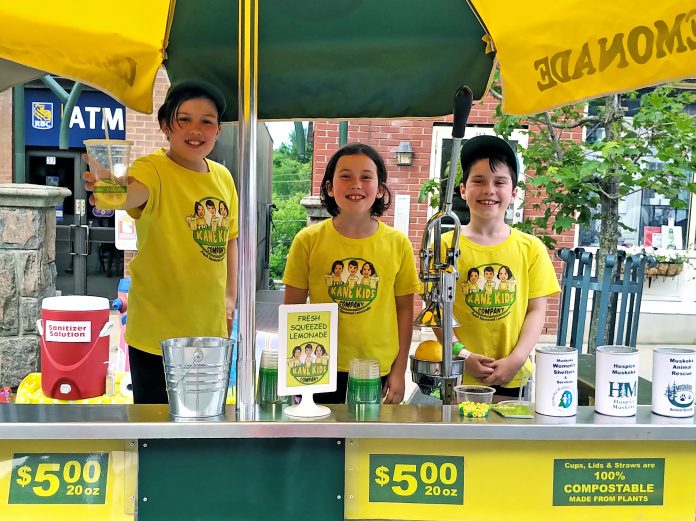 While most nine-year-olds are hoping to avoid work over summer vacation, the Kane triplets are mixing their summer fun with business, running the Kane Kids Company lemonade stand at events across Muskoka.
Bracebridge residents Lea and Paul Kane heard that a local was selling their stand last summer, so they asked their daughters Lila, Sadie and Violet if they'd be interested in running their own business in the form of a lemonade stand. The triplets were excited about the idea, so the Kanes bought the stand and the girls got to work, researching and brainstorming ideas for their business name and logo.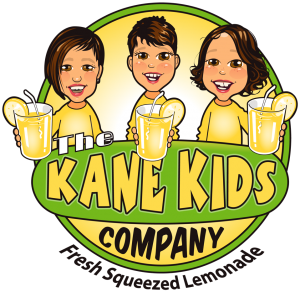 "They literally sat down at the dining room table and did drawings and whatnot, and we presented the ideas that they came up with to other artists to bid for their logo," Lea said. "Then [the girls] selected the one that they ended up liking."
Lea and Paul handle certain aspects of the business that a nine-year-old can't, such as dealing with insurance and health inspections, but the majority of decisions are made by the triplets. They were responsible for finding an employee to act as babysitter/supervisor for them as they work events and it was their decision to go green with the supplies.
"They were very earth conscious and decided to use products for their cups, their lids and their straws that are all plant-based," Lea said. "And they were the ones that came up with the idea of making a donation from their profits to local non-profit organizations."
As often happens with business teams, the girls weren't all in agreement when it came to which organization to choose for the donation. Lila chose Muskoka Women's Shelters and Services, Sadie chose the Muskoka Animal Rescue and Violet chose Hospice Muskoka, so they decided to give customers the option to select one of the three organizations when purchasing a lemonade. Customers receive a token or a bead to put into a can that corresponds with their organization of choice, so at the end of the event season, the girls can make donations to each organization based on customer votes.
The triplets also got final say about what events they would work at throughout the summer. Lea and Paul sat down with them in February and talked to them about different events that were available in the area, leading the girls to choose about five or six events they wanted to work.
"The hard part for them was these are all events that they've enjoyed actually participating in, so they didn't want to miss out because they are still kids and it is summertime," Lea said.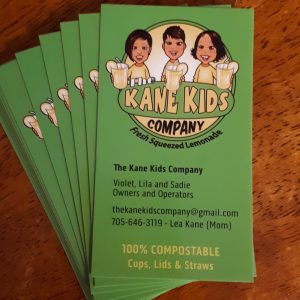 That's when the triplets came up with doing shifts, deciding that they would work for 30 minutes and then take an hour off so they could enjoy the event. The girls said that while it can be hard sometimes to make decisions such as what roles they'll each play while working at the stand, overall they have fun together.
"Their biggest complaint was, 'We only got to work half an hour and then we had to wait a whole hour to work again,'" Lea said. "They're so excited to be working that the night before an event, it's like Christmas Eve for them."
The sisters have since changed the schedule, making the shifts one hour with 30 minutes breaks. Working out the kinks in the business and running the stand on their own has been an exciting way for them to make their own money, the girls said. 
Lila said she's especially happy to get the chance to make money without cleaning the house while Violet said that along with the spending money, she loves being able to make people happy with their lemonade. The triplets said that they plan to continue running the stand in future summers, and Lila even has her eye on a possible side business selling brownies.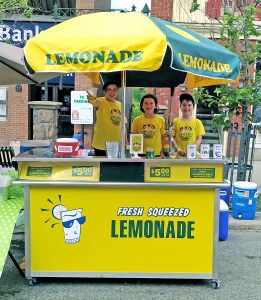 Lea and Paul have tried to emphasize the importance of the girls expressing gratitude to their customers, hoping to ensure that they're appreciative of the opportunity and don't take it for granted. Lea said she's sees the small business as something like a modern day newspaper route.
"A child 40 years ago could confidently go and deliver papers every day and then on a Thursday, they would go knocking door to door to collect the money," Lea said. "There was so much responsibility in a way of presenting yourself to adults and to other people in the community. That opportunity has essentially gone by the wayside for many of our children that are being raised today, so this is a great opportunity that I'm grateful that we've been able to provide to them."
To try the Kane Kids Company lemonade this summer, look for their stand at the Huntsville Rotary DockFest on July 6, the Baysville Walkabout on July 27 and Midnight Madness in Bracebridge on Aug. 2.