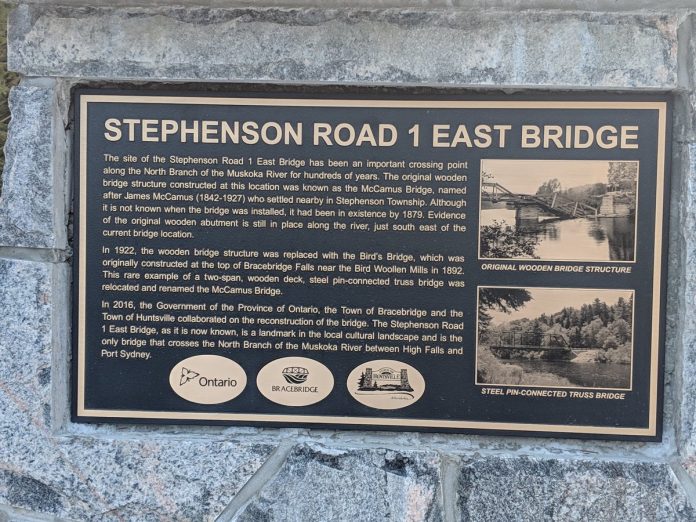 On Tuesday, December 18, 2018, Town of Bracebridge Mayor Graydon Smith and Town of Huntsville Mayor Scott Aitchison were joined by members of the public, media, municipal staff and their respective municipal Council's to officially unveil a new plaque at the Stephenson Road 1 East Bridge which commemorates the history of the bridges in this location and acknowledges a cooperative initiative by the two municipalities to re-build the bridge.
In 2017, the Towns of Bracebridge and Huntsville completed a joint project to replace the bridge crossing the Muskoka River North Branch between River Valley Drive and Balsam Chutes Road.
"It's a pleasure to have everyone here to celebrate the history of the old bridge and new bridge that will continue to serve the public for decades to come. I want to thank Mayor Aitchison and the Town of Huntsville for their role in this project, it's been integral", stated Mayor Graydon Smith.
"It's always a great to get two municipalities like Huntsville and Bracebridge to work together and have this partnership to solve infrastructure problems", stated Mayor Scott Aitchison.
In 2017, The Towns of Bracebridge and Huntsville were approved for funding in excess of $1.1 million from the Ontario Community Infrastructure Fund (OCIF) for the replacement of the Stephenson Road 1 Bridge. Recognition of the bridge's historical significance, as has been set out on the new cairn and plaque, was a recommendation of the Stephenson Road 1 East Bridge Class Environmental Assessment and a requirement of the funding agreement.
The Stephenson Road 1 Bridge is an important asset to both Bracebridge and Huntsville as it is relied on by first responders and serves as a crucial piece of transportation infrastructure for area residents.