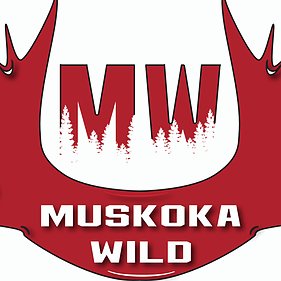 Saturday, October 29, 2016
Motoki Watanabe made 41 saves, and Angus Macgibbon and Devin Gates each scored twice to help the Muskoka Wild to a 5-2 win against the Essa Stallions in Angus on Saturday.  Muskoka (10-1-0) continued their strong start to the inaugural season of the Canadian Premier Junior Hockey League, and are currently sitting first overall through the first quarter of the season
A tight first period saw Stephen Eccles give the Stallions the early lead, however Angus Macgibbion scored his first of the game just over a minute later, and the teams entered the first intermission tied.
The Stallions retook the lead only ten seconds into the second frame on a goal by Oliver Harris, before the Wild struck back with three straight goals in a ten minute span.  Macgibbion scored his second to even the contest, and the Wild took the lead on a short-handed goal by Devon Gates at 14:20.  Gates notched his second just after the halfway point of the period, on a goal assisted by Kameron Wilson and Macgibbon, his fourth point of the night.
Brandon Pheasant put the game out of reach early in the third, with assists to Gates and Jesse Mcleod. Gates finished with the contest with five points, a season high.
The Stallions had their chances throughout, throwing 43 shots on goal, but a strong performance from Watanabe kept the Wild in the game early.  Watanabe has a 1.50 goals-against average in his four starts for the Wild this season.
"He's been solid from game one," Wild General Manager Scott Baker said post-game.  "We didn't have our strongest game defensively, but he gave us a chance to win an important division contest with some outstanding saves.  Back-to-back games on the road can be tough on a short bench but I can't say enough quality things about the compete level. I'm proud of our group and we learn every day."
Muskoka and Essa play the second half of their home and home on Friday night. Game time is scheduled for 7:30 PM at Port Carling Arena.
For more information visit http://www.northernathleticeducation.com/ 
Twitter https://twitter.com/muskokawild
Muskoka411 is proud to support The Muskoka Wild