Tension has been rising in Bala over the round-the-clock construction by Swift River Energy Ltd. and now, the Township of Muskoka Lakes is taking the issue to court.
Senior Municipal Law Enforcement Officer Jon Popple has confirmed 13 charges to the media regarding noise by-law violations, including five for Swift River, three for Swift River President Frank Belerique and five for CRT Construction. These charges carry a maximum fine of $5,000 each, meaning the fines could be up $65,000 combined.
Nhung Nguyen, vice president of development at Swift River's parent company Horizon Legacy Group, released a statement on the company's behalf on Dec. 19, stating that they need to work around the clock to finish lake bed excavation before Christmas and that they are not violating noise by-laws. Township noise by-laws prohibit the operation of any construction equipment after 9 p.m. and before 6 a.m. (except on Sundays, when construction is prohibited before 9 a.m.).
The statement points to the Cranberry Festival, a three-day event held in Bala each fall, as the cause for the delay and said that it has caused their winter construction schedule to be "significantly compressed." Last week, the company offered to pay the township $5,000 per day "that would total as much as $35,000" for the inconvenience of the continual work, but the township refused.
Mitchell Shnier of SaveTheBalaFalls.com responded to the company's proposal, saying he finds it "quite remarkable" that Swift River would need more special treatment. He suggested the township terminate the lease and collect legal fees from the company.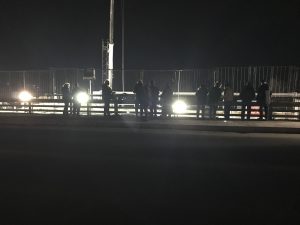 About 30 other residents showed their dissatisfaction on Dec. 19 by protesting the construction occurring after 9 p.m. at the work site. Many residents have taken to social media to share their opinions, some urging the township to terminate the lease while others say they would rather see the project finished for the sake of restoring the township's peaceful atmosphere.
The first court date is set for Jan. 9 in Bracebridge Provincial Offences Court.