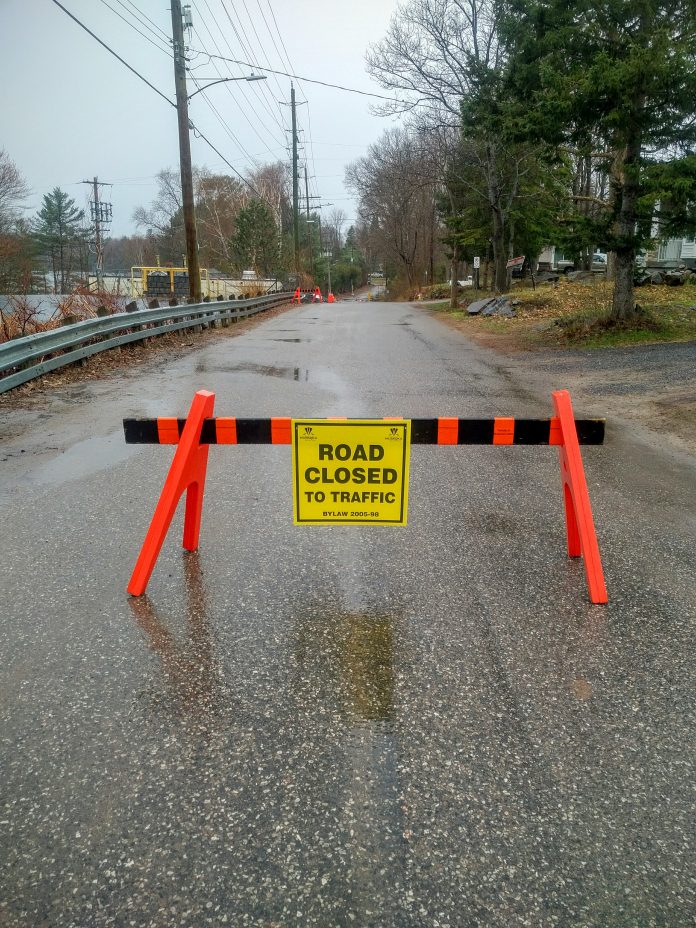 Township of Muskoka Lakes officials are working with the province on Disaster Recovery Assistance for residents of Muskoka Lakes.
If activated by the province, the Disaster Recovery Program helps cover emergency expenses and costs to repair or replace essential property for individuals at their primary residence, small owner-operated businesses and farms, and not-for-profit organizations. Residents are encouraged to contact their insurance provider to determine level of coverage. It is best practice to photograph all damage throughout the emergency and record/keep all receipts related to damage and clean up, according to the township. The township is advising residents that water levels over the past 24 hours have raised approximately 2.5 centimetres (1 inch) on Lake Muskoka, 5 centimetres (2 inches) on Lake Rosseau and Lake Joseph, and have stabilized on the Moon River. The District of Muskoka has closed the Port Carling Locks until further notice.
Navigation restrictions have been issued by Transport Canada for Lake Muskoka, Moon River, and North and South Muskoka River. Navigation by non-emergency vessels is strictly prohibited though individuals who can only access their property by boat are exempted f for the purpose of going to and from their property. Property managers and contractors are exempted from the Interim Order for the purpose of going to and from property on behalf of property owners. If citizens must use a waterway to access a property, they are urged to navigate at as slow a speed as possible.
Marine patrols in these areas by the Bracebridge and Huntsville OPP will be supported by members from the OPP Central Region SAVE (Snowmobile, ATV and Vessel Enforcement) Team. Failing to abide by this order could result in fines of up to $5,000.
Mortimer's Point Road from #1194 to #1245 fully closed to pedestrian and vehicular traffic. In Bala, River Street from Muskoka Road #169 to Maple Avenue is fully closed to pedestrian and vehicular traffic. The road closures will remain in effect until further notice.
Individuals displaced by flooding that require assistance with emergency accommodation can contact the Red Cross Personal Support Assistance Number at 705-715-8138. Any resident in need of sandbag support can call the township office at 705-765-3156 for assistance. For more information on flooding and road closures, visit the Township of Muskoka Lakes 2019 Flood Information page. For a Municipal Emergency contact after hours, call 1-705-765-3156. For Emergency Services, call 911.
For more information about drinking water, sandbags, seasonal residents and more, read our last update about Muskoka Lakes below.
Areas Adjacent To Moon River Should Consider Evacuating Due To Increasing Water Levels